1.1.2 is one of the most important patches to PilotLight so far in my opinion. Everything is seemingly coming together perfectly, and I'm truly proud of the controls and overall feel now.
It's easy to forget...
One thing I kind of forgot about (oops) when developing the player controls was multitouch. Before 1.1.2, am accidental finger touch could cause firing bugs, as well as gui glitches/freezes. Since PilotLight only ever uses one finger at a time, it was a relatively simple fix, so I rewrote the control script to only use one touch at a time.
Another thing that I didn't implement, and should have from the get go, was player control scaling across different resolutions. Before, if you had a higher resolution than 800x480, you were able to get more force and speed because of the higher resolution. This is fixed now, and the force scales based on your resolution.
Tutorial scaling also got lost in the shuffle, and it wouldn't have been very usable on higher resolution devices like tablets. As you can see in the picture below, all resolutions look the same now.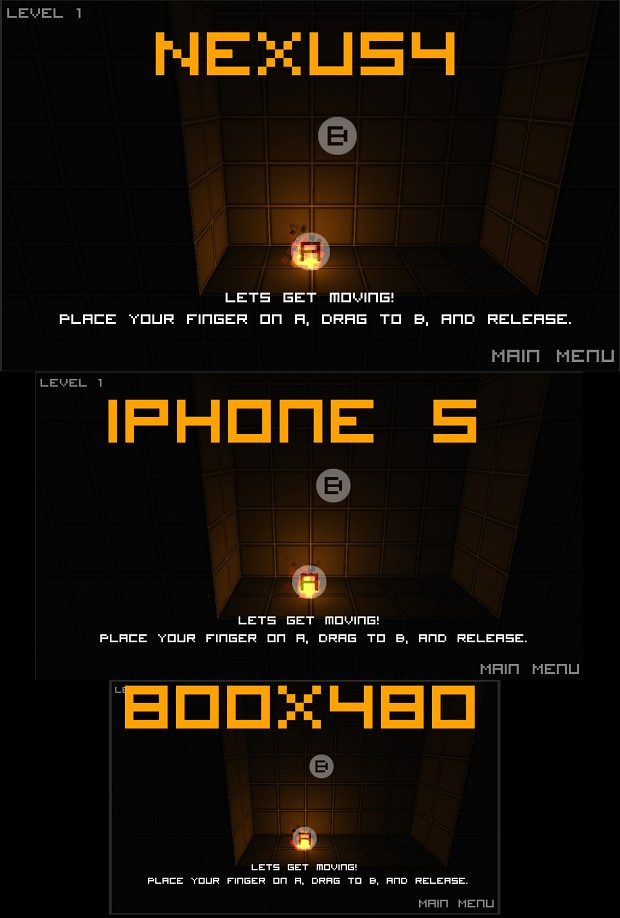 What's Next?
I made to make a decision to halt development on the dynamic leader board feature in order to get PilotLight out the door, and into players hands.
I'm only one developer, and there's only so many hours in the day. I would rather spend those hours developing content that is most important to players, levels. I may add it back in later on, but no promises.

1.1.2 Changes/Fixes:
Vastly improved control consistency across all resolutions.
Tip screen fade in issues resolved.
Multitouch interfering with controls fixed.
Tutorial image/instructions scaling improved across all resolutions.
Any feedback (which is greatly appreciated) can be directed to my Twitter, or though PMs on indieDB.
PilotLight is a physics based platformer, rich in ambiance, where you control your flame using just one finger. Burn all the fuel while avoiding environmental obstacles. Through discovery, plan your perfect route, execute it to perfection and get gold!