Its finally here, albeit a bit overdue, but 1.3 brings some much needed optimizations and improvements to the table.
The minimap has been overhauled to give you a better overview of the level your currently playing, and sandbox mode has been replaced with a full level editor, in preparation for level sharing which will come in a later update.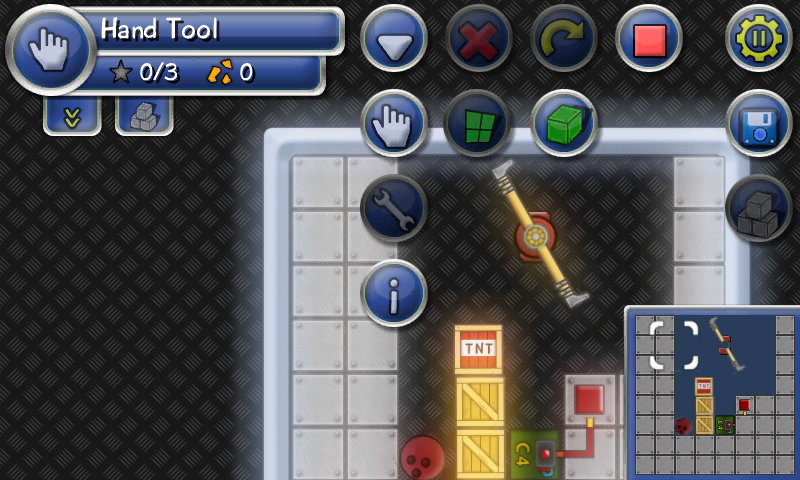 Changelog:
New, optimized UI system
New minimap
Added sliders to some configurable object properties
Added localization support
Added Danish localization
Added setting to auto-hide inventory when moving view
Minimap can now be resized with 2 fingers
Fixed minimap not showing large objects correctly
Fixed config tool not showing warning tiles correctly
Fixed restoring the game sometimes displaying a blank screen
Fixed jitter when scrolling inventory bar
Fixed inventory scrollbar sometimes getting stuck
Sandbox mode has been converted into a full editor -sharing to come later
Multi-gesture input handling (do more than 1 thing at once)
Wire gate chip names have been reworded for easier reading
Locked inventory items are now also grayed out
Optimization Bloom no longer tries to draw when turned off
Optimization Greatly reduced physics lag involving lots of objects
Optimization Expired sound effects are now cleared correctly
Moved count-down timer to above the minimap
Increased size of count-down timer font
Trial version is now ad-supported
Objects with no category are auto-added into the misc. category
Smallest custom level size now available in trial mode
Reworked tutorial (again)
To celebrate this update, the full game is available for a limited time at a 40% discount!
If you still haven't tried the game yet, head over to the Windows Phone Store and give the trial a go!