The old, primitive and "hand written" physics engine, built from ground-up, and based on 3D physics, contained lots of bugs, and was very (very) complicated to use. After many attempts of improvement, the engine was entirely removed from Inverted, and I began to look for new solutions.
Conveniently enough, the great guys at Unity came out with a new update - Unity 4.3. It contains numerous 2D tools that are reasonably easy to use, and a lot of other cool improvements. Excited to see how it all works, I immediately began re-writing the entire (well, almost entire) code for the game, fitting it with the new components. After about a day of work, the game was back where it was, but with new physics.
Unfortunately, there are still a number of bugs regarding physics, but they are yet to be fixed.
The main menu of the game was also renewed. The old, bulky menu with the standard list of selections, was not looking that great. So I decided to change it. I removed all the of the mouse selectable buttons, and replaced it them with a large game logo located mid-screen. Now, all one has to do, is just press space bar to start the game, and it will return you from where you left off.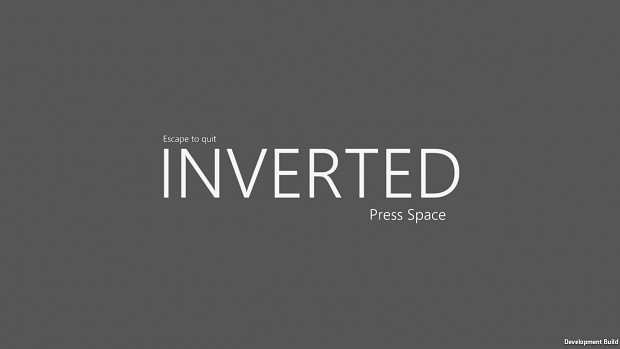 In addition to, there will probably (most likely) be improvements in the background art (as well as the component art) of the whole game, as soon as I bring the knots together with physics and level design.