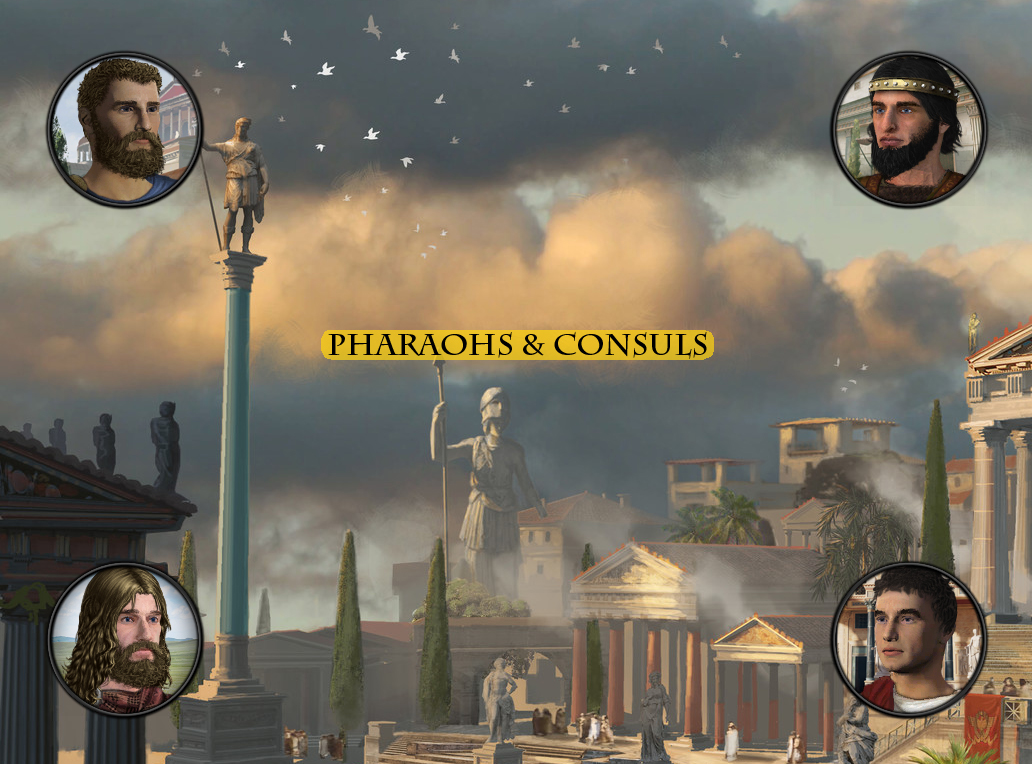 This News update has also been posted on the Paradox Forums in the new mod thread.

Salve Citizens,

I am attempting to provide a central location for Pharaohs & Consuls development progress, so I will be using the new mod thread on the Paradox interactive forums as well as an associated discord channel (soon to be listed below) as the communication methods for mod progress from now on. The old moddb page won't receive from attention (as I haven't updated it much anyhow in the past) so I will leave this update here and possibly use the Moddb page for the file downloads as I release public builds. I'm not sure how or if I am able to have a Mod sub-forum for Pharaohs & Consuls but I am currently enquiring about it and will update that on the forums once I have figured that out.

To those who have followed Pharaohs & Consuls development over the past few years, and provided feedback from the early alpha, I thank you.

Development has been slow over the last few years as I am a one-man team, and although I have had several contributors for some historical data and cultural titles/name-lists, it is difficult for me to coordinate a team as well as work on the mod itself.

That being said, the last few months have seen a huge amount of work done on the mod, including a complete map overhaul, graphics reworks on many portrait sets, titles and region reworks, general improvements and almost the full completion of the 1st playable bookmark, as well as huge progress on the remaining bookmarks, and also minor bookmarks as well.

A complete UI overhaul is almost finished, there are still several parts which require work as well as religion/culturally based UI additions for flavour (such as Egyptian, Persian, Barbarian etc) as the base UI model right now is developed along a Hellenic/Roman flavour...the additional cultures flavour will be added in time.


There are still many features which I have not yet implemented but are planned. Currently there are only a handful of societies which are properly integrated into their respective faiths and the time-period. Secret-Faith societies have yet to be properly implemented, in addition there is a large amount of localization which is yet to be done.

Several Government Models have been partially implemented which include a Mesopotamian/Persian model, a partial tribal-monarchy, and a roman republic/Imperial system, these are still WIP and prone to change, with possible future models being added as required.

Much of Britain, Scandinavia, India, Eastern Europe, West Africa (Ghana/Mali) have had little work done so far as historical information is sparse. Much of what is present is fictional characters ruling over a historical tribal/ethnic kingdom which is mentioned in a historical text at some point....but become more fleshed out in later bookmarks as more information is available.


The mod has been developed and tested with ALL of the major DLC and the latest patches. It was an early design choice and has been adhered to throughout development, my apologies to those who prefer being able to play without major DLC. It might run while missing certain DLCs, I can't say as I haven't tested this functionality. (Cosmetic/Unit pack DLC being present or not shouldn't cause any issues) The mod will not work on earlier versions of the game or versions of the game without all major DLC/Expansions.

______________________________________________________________________________________

Again, I will be using the Paradox Interactive Forums and DISCORD to post Dev Diaries and showcase work being done, as well as post Alpha Builds as they are completed. More to come here....

I am creating a Discord server to try and coordinate feedback on features and work as I develop it, it's a new experience for me but might help in getting positive feedback and allow me to showcase more work.

DISCORD Link: Will be provided soon





Current Internal Build is running on CKII 3.2.1.0 (AZCE)



I have maintained a record of my permissions for asset use from the paradox forums, PM's, and steam conversations, if there are any discrepancies or issues, please let me know and I will adjust accordingly, if I have overlooked a contribution or forget to list it here please let me know so I can rectify that asap.

______________________________________________________________________________________


Contributions and Thanks:

This Project should be understood to be the combined work of many different contributors from many different CKII, EUIV, and total war mod teams.
I myself cannot draw almost at all, so a huge amount if not all of, the art assets come from a variety of sources and generous contributors.

The UI work has been inspired and modeled after the amazing work of Arko's UI overhaul and also the 'Marble look' of Imperator Rome.

I have been inspired by many different script/event mods and designed certain elements of the gameplay after them, some code has been integrated where possible when permitted by the original coder/creator.

All of the music and sounds come from a variety of sources, I didn't create any of them and they are mostly used for ambiance and immersion in this recreational project.



Put into Spoiler format as the List is quite long, please take a look:


Spoiler: Credits & Contributors:
Thanks especially to Galle (Paradox Forums) for a ton of advice and his amazing assistance in the modding process.

Thanks to UMCenturion and Causeless of the Ancient Empires Total War mod for their UI asset usage; the majority of the ingame UI design is developed from his work.

Special thanks to Witcher (Paradox Forums) for historical advice and guidance.

Thanks to Kryo (steam) for the integration of his transparent map mod +borders and his amazing embossed font mod.

Thanks to Diadochi Kings mod team for usage of all assets etc

Thanks to AGOT mod team for the use of several art assets and code examples with integration of ambitions and traits.

Thanks to Illathid and the Geheimnisnacht mod team for several coding examples, general inspirations and hopefully more integration of several gameplay/ui assets in the future.

Thanks to the Magnate lords (apg?) for the concept and idea, I built my own WIP resource system using his as inspiration, also used a few gfx province pics (temporary placeholders as the system is still being integrated fully in the game -> will mostly be a reduced version of Magnate lords itself.

Thanks to Lord of Pain for his LTM Terrain and Map tweaks made to it to represent a different visual approach to the world map for the setting of Antiquity.
and
-Special thanks to In Heaven(steam) for his IN Heavens map graphical overhaul which I've integrated elements of, especially the water effect.

-Special thanks to Korbah and the Elder Kings mod team for some asset usage.

Thanks to DaMonkey (Steam username) for potential usage of his "Send Courtier" mod.

Special Thanks to my playtesting mates and contributing Devs, and anyone else who may have slipped my mind at the moment.

Special thanks to DerGroseKA and other members of the Imperium Universalis mod for the usage of a few UI and flag artwork.

-Special thanks to Solo(steam) for his Patrum Scuta work

-Special thanks to Causeless & UMC Centurion for their UI work and other assets from the Ancient Empires total war mod.

-Special thanks to EthicallyChallenged of Deviantart, and many more for the loadingscreen art used, all of that work is the property of it's respective owners and I have simply used it to showcase Art set in Antiquity versus the regular CKII loading screens.


The mod is in an ALPHA state and is still heavily in development.


>Thanks for following the mod's development so far and for your input and contributions.
Quick ingame shot of Mesopotamia and North Africa in 550 BC, showing the Major powers of the time; Egypt, Babylon, Lydia, and Persia: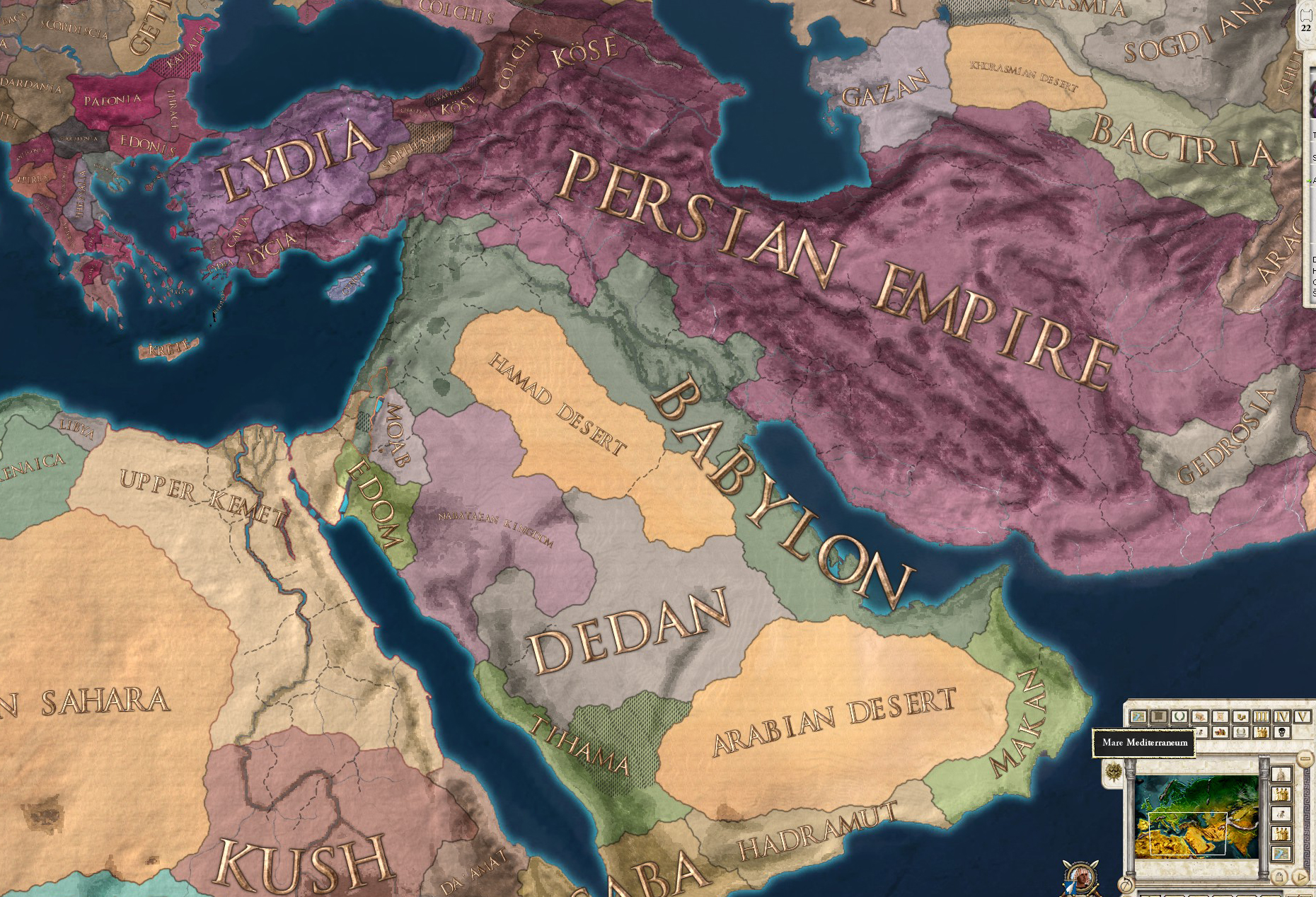 It's from a play-test so borders will have fluctuated a little... The Egyptian Pharaoh Ahmose II just declared a war over the southern border near Edom and ancient Judea on Narbopolasser's Babylon.