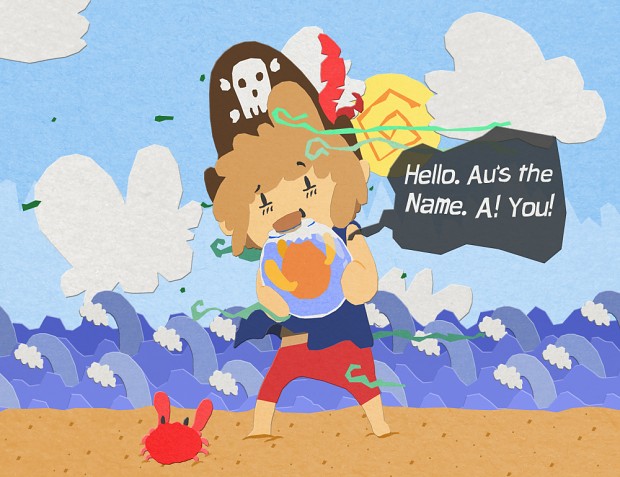 Hello everyone. Just making a update on a new character that was made today for our game called "Pete." His name is Au. It is pronounced as A-You. Au is a Goldfish. Where and how does he fit into our game? Well Pete rescues him. This is Pete's first encounter with anything in Atland. Au is swimming away from something and leaps into Pete's little boat. Au is screaming at the top of his little fishy lounges at Pete. Pete wakes up and the Au quickly explains that he needs help. So Pete looks around his little boat to see what he can use to help Au. Pete finds a bottle and scoops him up. Au calms down and talks to Pete only to find out that Pete doesn't know anything about Atland. So Au wants to tag along and help him on his adventure to discover where he is from and hopefully get back there.
So what purpose does Au actually serve? Well, he is part of the ocean. He knows a lot about Atland. His role is to help you when things don't make sense. He is like Navi from Zelda. But more Goldfish-y and WAY less annoying. He is also very funny. Pete carries him around in a bottle. But Au is more than just your assistant. He has his own story and he tags along because he knows you can help him. What exactly was he running away from? Well. I can't tell you that. But for now.
His design came about because I wanted to make him round, so he could into a round bottle without it looking weird. We where looking at a lot of kinds of fish. And one I really liked was a Puffer Fish. But it didn't fit Pete so much. The only other kind of fish I knew that would go well with Pete's simple design was a simple Goldfish. So I combined a Puffer fish and a Goldfish to make Au. Jouri actually came up with the name Au, good on his part. It's a awesome name for a Goldfish. Well that's how Au came to be. Also we needed a Navi-type character. Enjoy some concepts I did up today.