Download link:
Marmorealgame.tumblr.com

I made a new version, adding music to the game and a perk system to the campaign mode.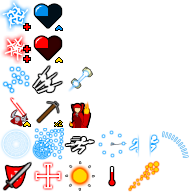 Icons for the perks currently in the game.
Perk system
Upon upgrading a stat to 5, you unlock a perk. These perks modify your gameplay in different ways, reflecting the stat it belongs to. Some are small things like receiving more health from health pickups, whereas some make a bigger difference such as Frank's Dash damaging enemies, or having Sir Vaun's Judgement make him invulnerable.
Right now the selection of perks is pretty slim, but I will be adding a lot more of them in the future.
Music
A big problem Marmoreal has had is the lack of music. Luckily, an AGDG musicbro called Sureva offered to make some music for my game. He's really good at it and I'm happy to have someone at his skill level helping me out. Here's the main menu theme he did for my game.
So long for now!