Original Article: Indiegames.com
After spending a good amount of time with the Avalanche 2: Super Avalanche beta, it's clear why Beast Games' latest effort has been selected for the The PAX 10 at PAX Prime 2013. There's a lot of depth to jumping around in the randomly generated levels, and its this depth that keeps things interesting.
This is a sequel to the original flash game Avalanche, made by the same developer. That game established the foundation that would come to support this fleshed-out follow up. Square blocks fall from the sky in a random fashion, and the player's goal is to climb them. You'll climb until crushed by a falling block or until you touch the liquid that rises from the bottom of the level, which has gone from water to lava.
A host of new elements were added to help build Avalanche 2 into a fully featured game. There are now enemies that pose as hazards, like snakes that wander around and birds that drop eggs as they fly past overhead. They can be jumped upon and killed, but touching them or their projectiles will kill you instead. Death means the entire level starts from the bottom, and it comes rather frequently given the game's proficiency at rubbing you out.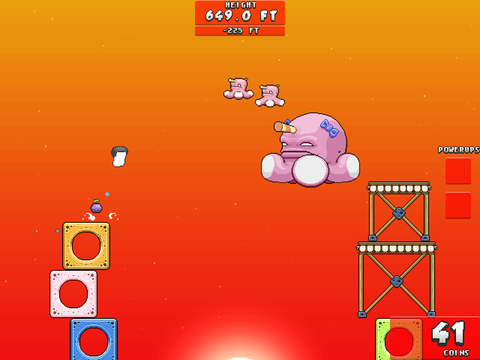 Power ups randomly drop from the sky, granting the player abilities like a double-jump, faster movement or a jetpack. Getting hit takes them away, so they also serve as an extra life of sorts. Money can be gained through random drops or by killing foes, which can be then spent at stores which also randomly fall from the heavens. The stores are another place to get items, like extra power up slots and permanent jump enhancements.
Get high enough and your progress will come to a stop. You'll come face to face with a boss, which is usually a larger version of one of the game's normal enemies. They take a few hits to defeat and have patterns reminiscent of classic games. Reaching victory will cause the stage's scrolling to continue. The platforms that fall change attributes in the next "level", like falling diagonally instead of straight down, lending a new wrinkle to what you've already experienced.
Sometimes you'll come across missions that also randomly drop, which can be equipped to provide secondary goals during play sessions. Most are simple, like jump on a few enemies before dying or get to a certain height, but they help level up your profile and unlock new power ups and items to collect.

Official Beta Trailer - Indie DB
Avalanche 2 is only in beta, but it's coming together really well. It can be picked up through the official website or Desura for $4.99 on Windows PC. The beta version is getting monthly updates until the final version releases, when the price will increase to $7.99.