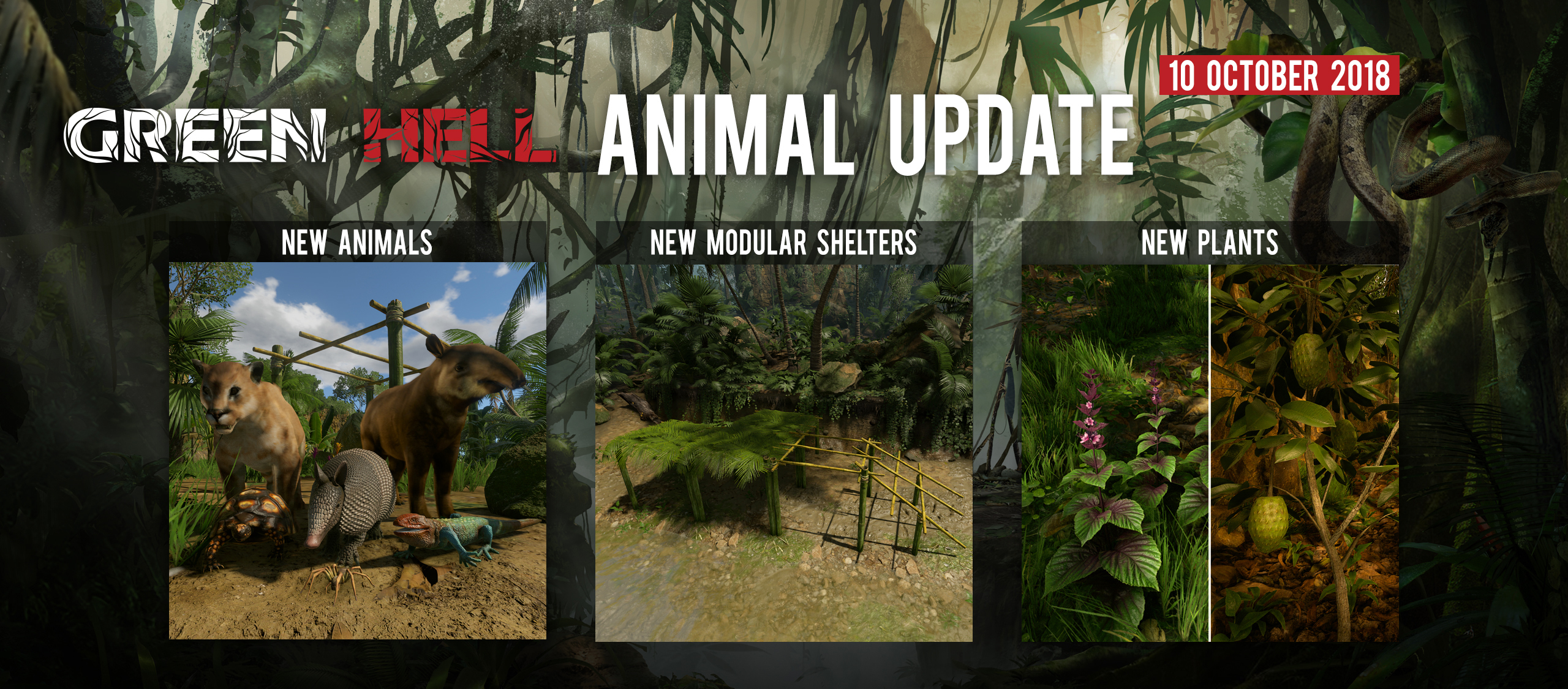 More animals, more plants, and more shelter options!

Hey everyone.
Patch: V.0.2.0 is live now!

New stuff:
New plants
New challenge - Hunter (Hunt down listed animals)
New constructions - Stands (Wood storage)
New Animals:
Armadillo
Armadillo three banded
Bats
Brazilian Wandering Spider
Caiman Lizard
Puma
Toucan
Red Footed Tortoise
Changes:
Constructions can be destroyed by player
Fire can be extinguished by spilling water on it
Scorpion no longer can be harvested, body can be cooked
Pass out, now correctly work as sleeping on the ground
Venom poison time indicator added on HUD
New Voice Over when starting fire
Harvesting animals now requires blade.
Kindling now can be used in fire tool via expand menu
Improved sounds of animals
Getting injury removes leeches
Different sounds for flies for carcass and wasp
Fixed:
Weight of various items
Player stucks when crafting during starting fire
Some constructions on map not blocking rain
Water sources player was unable to drink from
After harvesting player crouching
Some dressing wasn't working on wounds
Issues with loading saved games
Dialogs position on wide screen.
Backpack blinking while watch is active
AI spawn
Items position in hand corrected.
Fixed collisions with number of objects.
Road visuals
After reading a note in Tent text shows when pressing [R] anywhere in game
Getting worms when sleeping on hammock
Missing panic sound when animal is in snare trap
Small fire snap to stone ring which is under construction
StoneRing does not increase the length of burning of Small Fire.
Few items position in backpack.
After respawning Player seems to find less items
Multiple construction ghosts can be placed on top of each other
starting fire cancel by pressing [Q] just before the end block animation
Items targeting under constructions
Fixed some sounds not reacting on options sliders.
Lod ranges fixed for number of models
Drop option added for fire in hands;
Throwing up animation doesn't work when backpack is opened
Performance fixes
Localization fixes
Number of crash fixed
Crash on exit game
Thank you for your bug reports and feedbacks.