We're dropping a lot of new content today and we can't wait for you all to strap back into the Captain's Chair and check it out!
New Features – Build 0.1
Civilian Management
This new system grants you control of the Civilian City on your ship, and requires solid management in order to keep your populace content. The happier they are, the easier it will be for you to focus on actually reaching Titus Nova.
There are four components that now directly impact your Civilian population: Health, Happiness, Order and Rations. The first three are dictated by your management of events on the ship and the buildings you construct in the City.
The Rations you dole out fluctuate between Low, Normal and High and affect the other components as well as the Growth Rate of your population. That's right, babies are now born on the Ark-13 to help balance out all the lives you've lost along the way! Upping the Rations to High can be a quick fix for morale issues while you wait for Buildings to be completed.
Each of the aforementioned components feeds into three states of Civilian well-being: Happy, Unhappy and Angry, indicated by the smiley face on the Management screen. The more upset your population becomes, the more events will spawn on your ship. Now events are tied into Health, Happiness and Order, so you'll want to quickly clear them up before their associated percentages plummet and you're left with an Angry mob.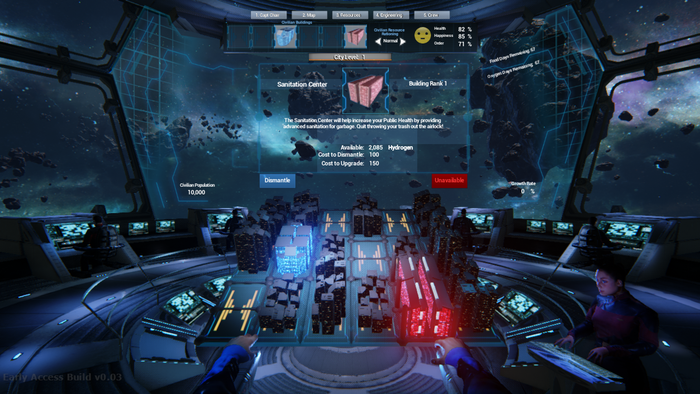 Now, the best way to keep your population Happy is to construct additional Buildings in the Civilian City. When added, these buildings feed directly into Civilian well-being. There are a number of options here, each with unique costs/benefits, so tinkering with the city layout will likely be necessary during your voyage. With well-being percentages on the rise, your City Level will increase in kind, unlocking upgrades for each structure that boost their abilities and bring joy to your population.
Skorn Wreckage
Remnants of Skorn encounters with previous Ark ships are now spread throughout the galaxy. They're too damaged to attack your ship, but certain dangers await any Captain bold enough to explore their cavernous interiors.
Possible Reward: Crew Member, Civilians, Module, Parts, Enhancements
Detection Range: Large
Interaction: Shuttle Mission
Crew Danger: Medium-High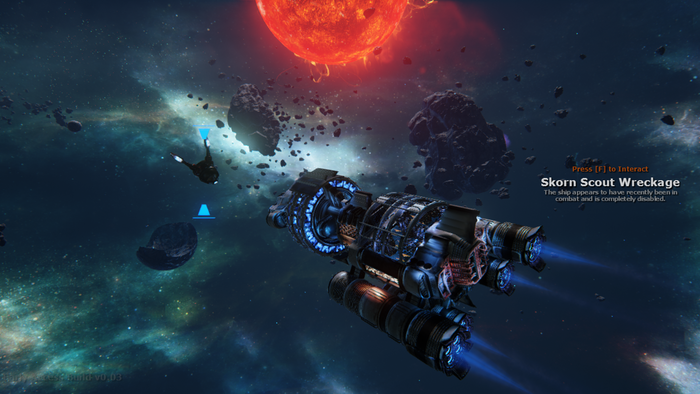 Gas Clouds
Pockets of gaseous resources can now be found tucked into asteroids, fractured moons and rock formations. They often provide significant resources but can only be mined a single time.
Possible Reward: Hydrogen, Nitrogen or CO2
Detection Range: Large
Interaction: Probe
Crew Danger: None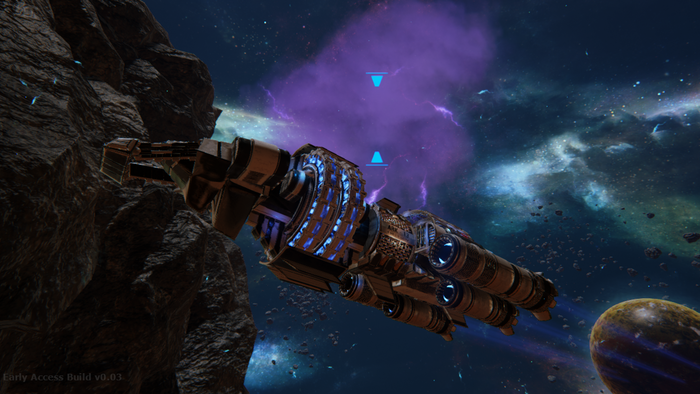 Storage Container
Menkhet pirates make use of Storage Containers to hide their coveted loot, and you'll need to explore quite a bit to find their riches. Be warned however, as they often patrol these locations or surround them with mines.
Possible Reward: Resources, Repair Parts, Enhancements, Module
Detection Range: Small
Interaction: Probe
Crew Danger: None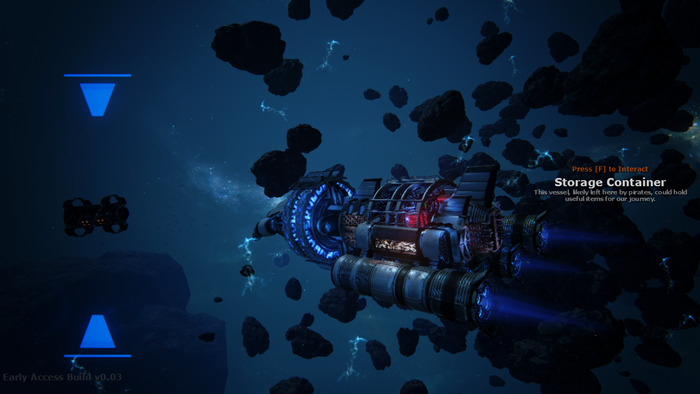 Changelist for Build 0.1
Added Civilian Management Feature
New Incidents added to Database
Updated Ark ship to reflect Civilian City changes
Added Skorn Wreckage
Added Gas Clouds
Added Storage Containers
Visual Update to Crew Screen UI
Fixed crash issue for some video cards on game launch (Using GraphicsSettings.sav file should allow most people having issues on initial start to get into game successfully)
Updated world content to conceal / lead towards new features
Tuned Combat Accuracy
End-Game Scoring Tuning
Adjusted Interaction Functionality
Forced interact distances tightened o UI elements disappear when interact complete
Tuned discovery rates for "Epic" Crew Members
The game world is starting to fill out and will only get more interesting as we push towards launch. Those experiencing the Nebraska.exe crash should now be able to play the game, and you have our apologies for the delay.
There's a lot more to come, so if you're interested in where we're headed, be sure to check out the Roadmap on Trello: Trello.com
Enjoy the update and thanks again for your support!
- The Fugitive Team