Hey everyone.
I'm really happy to see people have been enjoying the game. I honestly didn't think I'd end up with a fun/creepy game as a result of two days of work only, so I'm glad I hit the mark there.
I hear your requests for more content and certain changes to the game. I actually have an idea of how to continue developing and adding content to The Unknown by getting it some funding yet still keeping it free for everyone... Best of both worlds right? I hope so! I'll be announcing that soon!
Anyways as a thank you for the great reception I've spent some time after my day job working on improving The Unknown. Here's a list of what you can expect in the upcoming patch (likely to happen tomorrow).
Bugs Fixed
1) Fixed a bug that would sometimes create a level that didn't spawn enough chests, and was therefore unbeatable.
2) Fixed a bug that caused player to be blocked by their own Tags. Tags no longer float in the air but will attach to whatever object you place them on.
3) Fixed a major bug which was not letting the game end for anyone. This really sucked, some of you got to the end and didn't have the game end for you. Sorry! It's been fixed!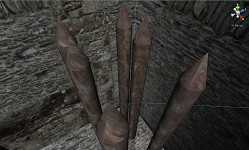 Content Additions
Like I've mentioned in other places (including my main project, Rebirth) one of the beautiful and awesome things of a procedural game is that I can add content to it and it will naturally merge into the game each time you play. I am adding a new room type or two, some new scares, and if I have enough time, maybe a new enemy to keep you on your toes. In addition, I'll add a few new ways for you to die aside from fear. After this update goes live, I'll bring up my idea of how to keep content for the Unknown going so you folks can keep on playing the game and getting a new experience every time you play.