Patch 252 is here, not many changes this time around. Next patch will have selectable races and mechanics (traps and things).
Added 13 new button graphics (drink potion, spell menu, ...)
Added automation button allowing your units to repeat queued commands
This will need to be expanded later, to have areas on which to operate on, so you can mark an area and some of your units could keep picking up things in that area.
Queued commands now show symbols at the target location representing the type of command
This is meant for automation of course. You will see it outside that as well though.
Fixed chat input aliasing
You can no longer place building templates where the UI obstructs the placement
Added a click indicator
Picked up items now float toward the unit that picked them up
You can now drag the camera using the mouse (default mouse button 4), or the set key on the keyboard
Dungeon chests can now spawn all potion types - not just empty ones
Added more potion interactions: pour on ground, items, units, pour on self
This does not do anything if you pour it on the ground or items yet. You can pour them onto other units though, for which you need to be twice as dexterious. If you succeed, the potion will take effect on that units.
Drinking potions is now shift-queueable
Stuff on floor will now slow down units to encourage use of containers / generic move-out-of-the-way automation setups
The slowdown is customizable in the server_config.txt. That way you can remove it entirely as well.
Stopped units from sometimes spinning in circles when moving
Fixed /auth crash
Added /team for use with pvp maps
Type in /team 2 to join the other team. You need to do this before joining the game with the map running.
PVP maps (that is maps with 2 spawns) will only allow you to move if there are at least 2 players connected.
Resume game now closes the options screen, if it was open
Fixed /diplomacy and added feedback from that function
Stopped walls from generating as ramps
Added functionality to make custom maps

Added 1 challenge map
Added 1 pvp map with 2 team spawns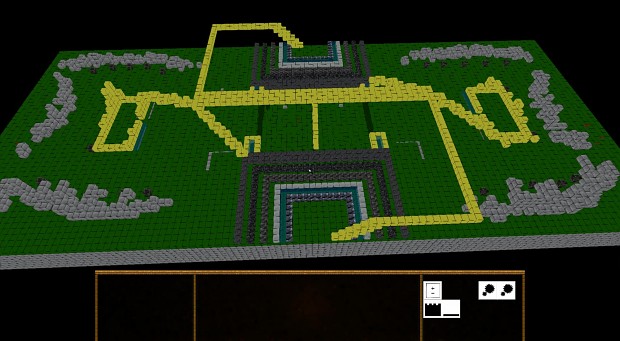 Added sewer dungeon modules using the custom map functionality
Fixed npc controlled units not attacking sometimes
Trees now affect pathfinding and take about three times longer to fell with the same equipment
Added an effect on the ground for spell casters
Fixed armor displaying incorrectly
Added an indicator, telling how many of something you have selected
Added force_fogofwar and the like to the server_config.txt
Added /give
More on how to make custom maps and use /give here: Dungeoncraft.draig.de