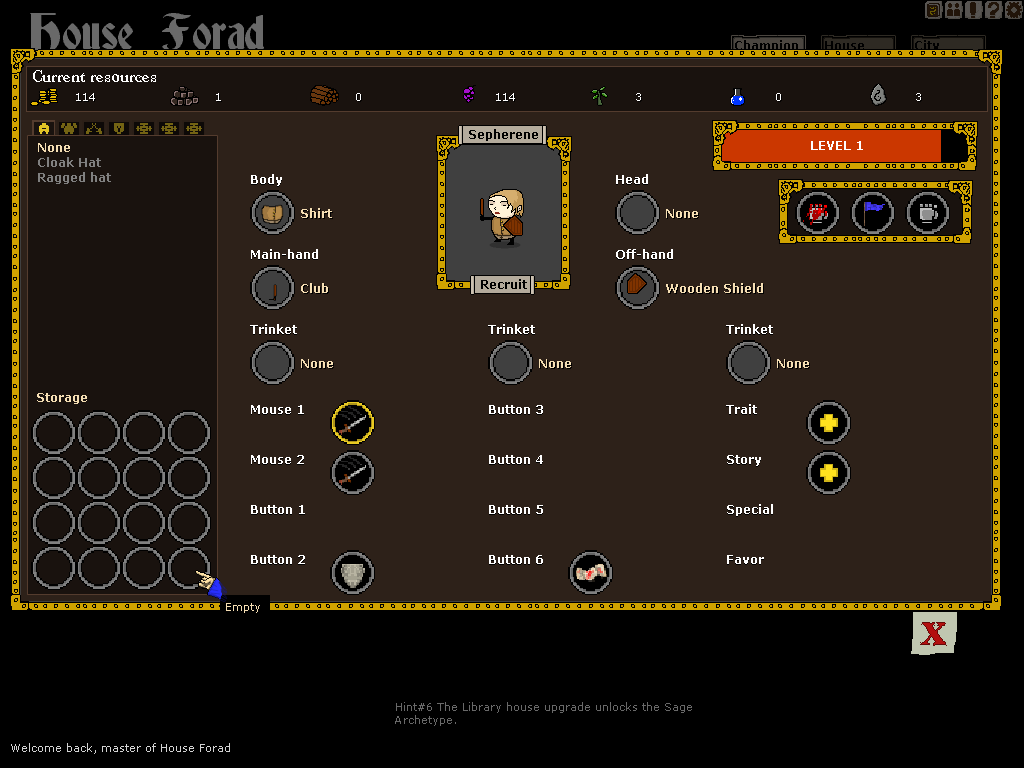 The new loot system also allows your champions to share gear.
Patch 1.1.4 Greed
With the game hitting Desura I have received a lot of feed back and the thing that keeps coming up is loot, so I decided to start implementing it and before I realized it I had become so wrapped up in the project that I had implemented a lot of new features. Loot is awesome! It really got me working on the project with a renewed vigor. I also decided to increase the difficulty curve a little bit by increasing all damage dealt in the game - this may actually make it a bit easier for high damage characters, who admittedly got the short end of the stick when health was buffed a while back. All movement has been increased by 50% and resting has been decreased by 60%, combine that with the damage changes and you will find that the game is a lot faster all round. Now it is still feasible to solo but it is much less predictable since the damage is now so high that proper defense management is key. Low level Clerics do have a hard time soloing with the new changes and I will look into ways to remedy that in the near future if it becomes a problem.
I will also be introducing some new leveling options in this patch, at most levels each character will now have the ability to choose between three stats to level up as the character progresses. This should make leveling more interesting and allow characters to influence their character uniqueness to a much higher degree.
Feature list:
New Level Options.

New Inventory System.

New Loot System.

All damage numbers increased.

New Monsters.

Wandering monsters now keep distance from starting city.

Totems no longer spawn during patrol missions.

Level of Creatures in instances now based on amount.

Amount of creatures in instances now varies.

House menu reworked.

GUI changes.

Better buff/debuff responsiveness.

Fixed a few crash bugs.

Fixed a bug when creating a new city.
This weeks class pick is:
The Cleric Of Ianna
Clerics of Ianna worships nature and the circle of life, from wandering druids to herbalists, Clerics of Ianna are have no structure of faith and only a few scattered shrines. Their worship is individualistic and Clerics of Ianna often value their autonomy. Clerics of Ianna are renowned as some of the best healers and only a fool would tempt the wrath Ianna, lest they be cut of from her care.
Wilder - Cleric Of Ianna subclass
The Wilders are warrior clerics of Ianna who has been known to take on the aspect of beasts when fighting, they give up their ability to heal others to gain the strength of the wild and kinship of the beasts. They have been known to call upon creatures of the forest to aid them in combat.
Nurture - Cleric Of Ianna subclass
Clerics of Nurture focuses purely on the healing powers of the wyld, many eschew armor and shields to let them practice their magic even more freely and they can invoke burst of wyld energy to harm their enemies at range. Their main focus is healing and few Clerics are as adept at restoring the wounded as the Clerics of Nurture.
Hope you will enjoy the patch and may Ianna smile upon you.