Good morning, guys!

Today we are posting a fresh monthly patch/update with some curious stats from our Steam page.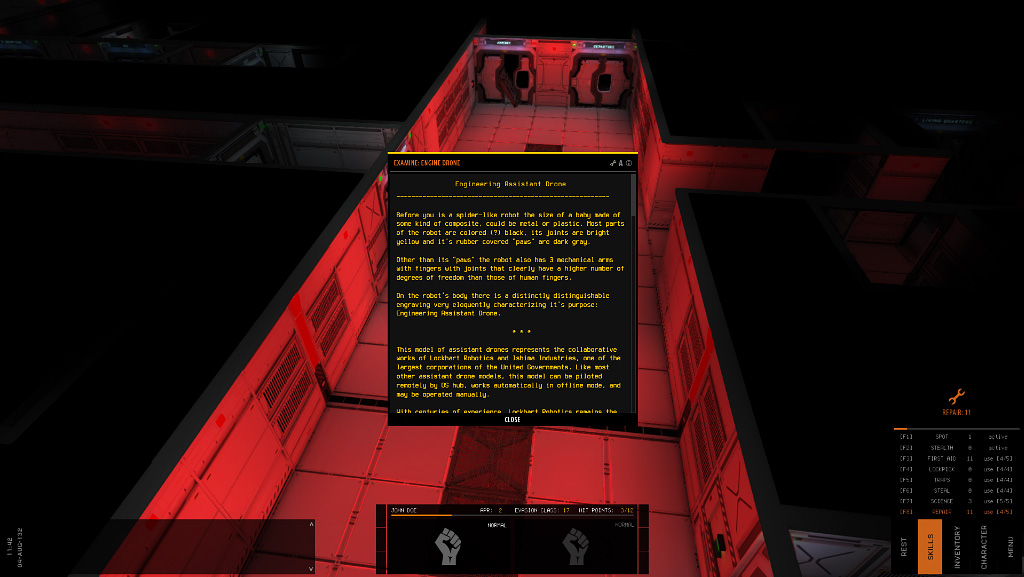 PATCH NOTES #112515

FEATURES & CHANGES:

Audio:

• Added sounds to pick/drop/equip inventory actions.

Gameplay:
• Added descriptions for all highlighted items/objects/creatures/containers on Special Facility & Science Facility level(s).

Graphics:
• Created a laser pistol for the UG MP.

Mechanics:
• Added description system for highlighted items/objects/creatures/containers.
• Added item & creature identification mechanics.
• Added an XP gain for the successful use any character skill.
• Added mechanics for broken items.

IMPORTANT NOTES:

The most important part of the new game mechanics is the description and identification of creatures and items. We revealed this earlier in Tutorial's preview on our forum: link.

The main idea behind all of these mechanics is to be able to check and use your skills to get information about anything in the game world, and to get an advantage from doing so.

For now, the interface mechanics use the Right Mouse Button to open the Description panel and initiate the identification process. The results of the checks are displayed in the log panel at the bottom left part of the screen. When you successfully pass any skill check (Expertise, First Aid, Science, Repair, etc.) your character receives XP based on the check roll.

So, any item in the inventory or in containers (later), or on the floor/ground/tables etc., can be checked by clicking on them RMB. As well as everything in the game world you're travelling that might be highlighted when you mouse over – everything has its own descriptions.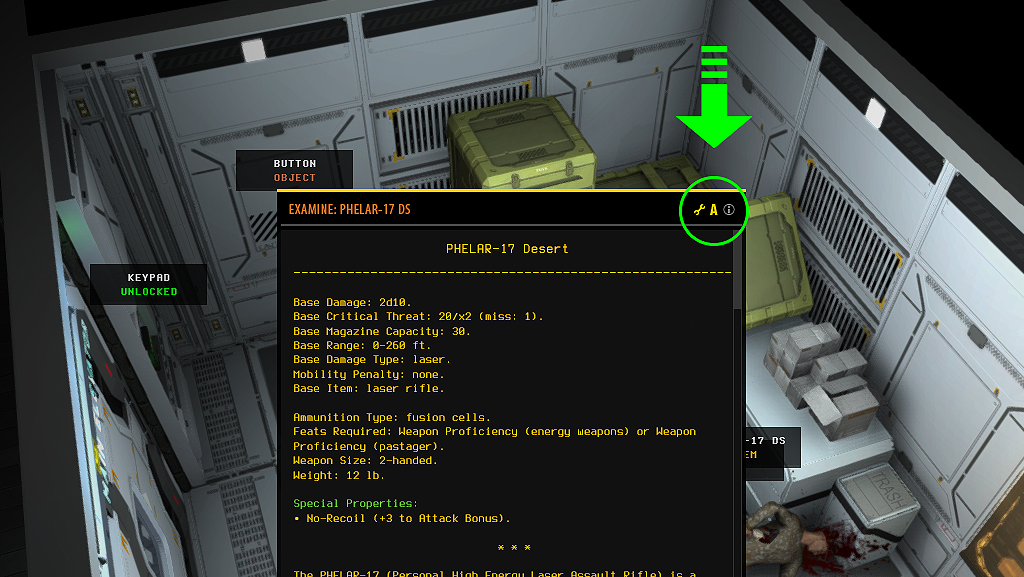 If you're regularly testing our patches, please take note of the following and report any bugs you find:
- check repairing terminals (e.g. the broken one which controls IMPASS field close to the Security Room);
- hacking terminals (e.g. the one which controls WC door at the room you character awakes);
- using First Aid (with the FA Kit and without it);
- study (by clicking RMB) every highlighted object/creature at Special Facility and Science Facility levels.

Also, please comment below this news if you'd like to be able to study any object on those Special Facility and Science Facility levels (if those objects are not highlighted yet). With screenshots and a clear description of what you're referring to. So far, I've written all dialogues and descriptions while the programmers work on coding. I might be able to create extra lore/descriptions that you're interested in if they fit the game plan and situation your character is in.

PHELP-14MK1/MK2 LASER PISTOLS

I'm proud to present you a couple of hard sci-fi laser pistols from After Reset world, 132 A.R: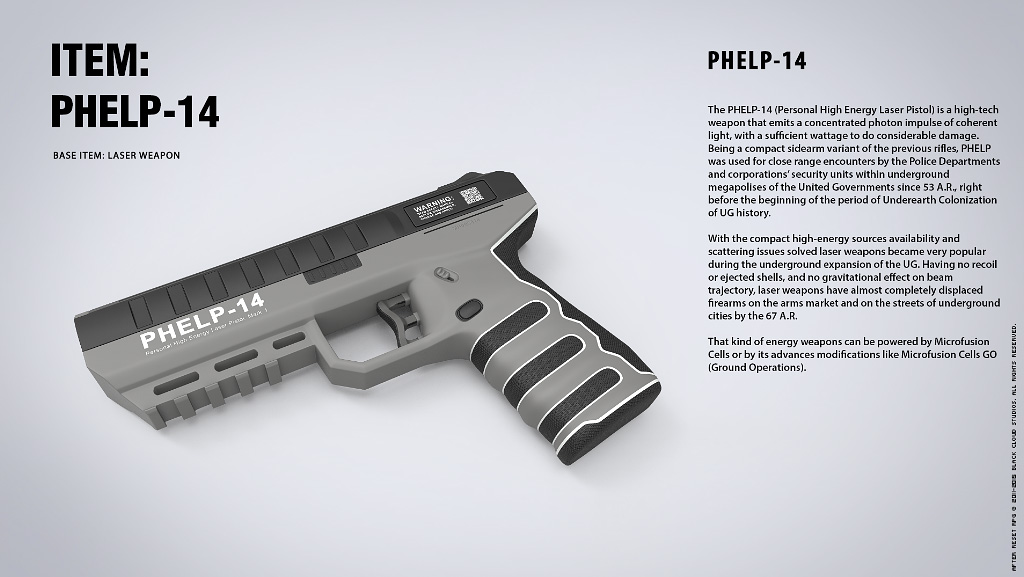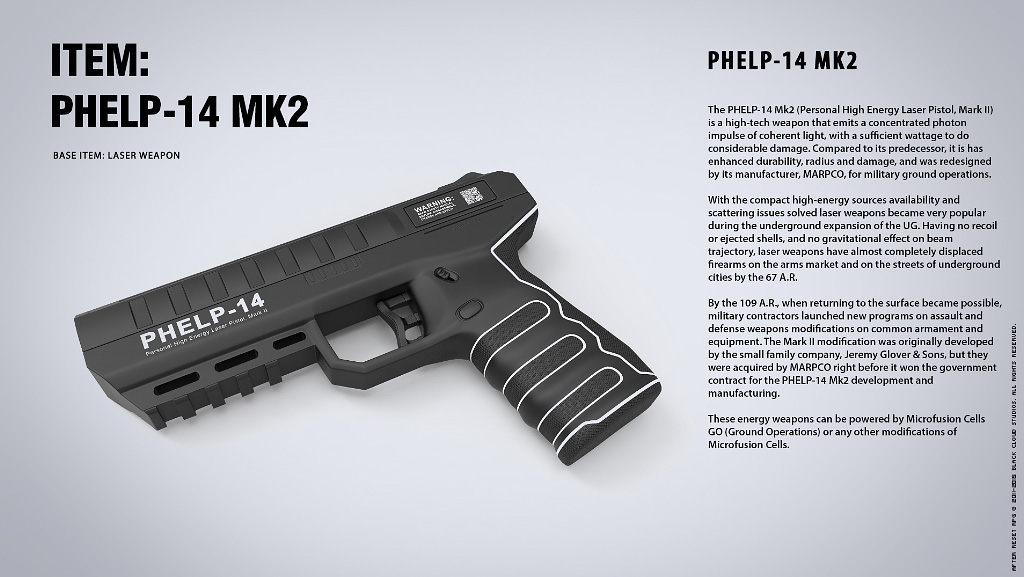 PHELP-14 stats and lore description can be found here: link.

And for PHELP-14 MK2: link.

For full-HD screenshots on these (and other items) check our DeviantArt page.

The second and more advanced version (the PHELP-14 MK2) you'll be able to find during the Prologue (as it is used by the Military Police of UG's Army).

STEAM STATS

In addition, it looks like finally everyone activated their keys on Steam, so I'd like to share some general stats that might help other Indie devs that are among our backers :)

There are 2,178 people who activated the game and launched it at least once. Within them there are only 18 people on Mac and only 5 people on Linux (that doesn't mean we are going to stop supporting those platforms!).

The map of activations shows the groups of our fans by countries: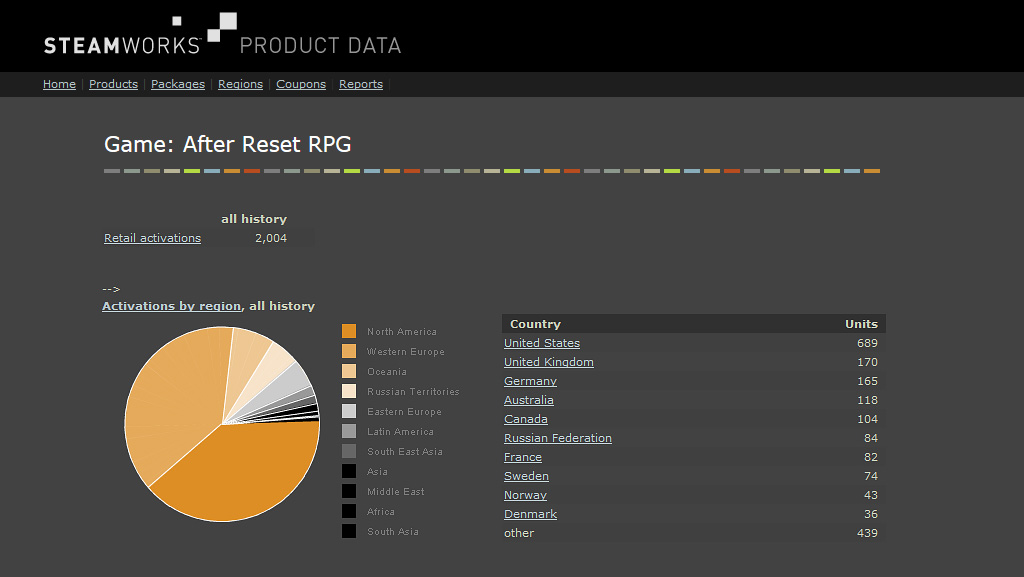 And some specs of their PCs: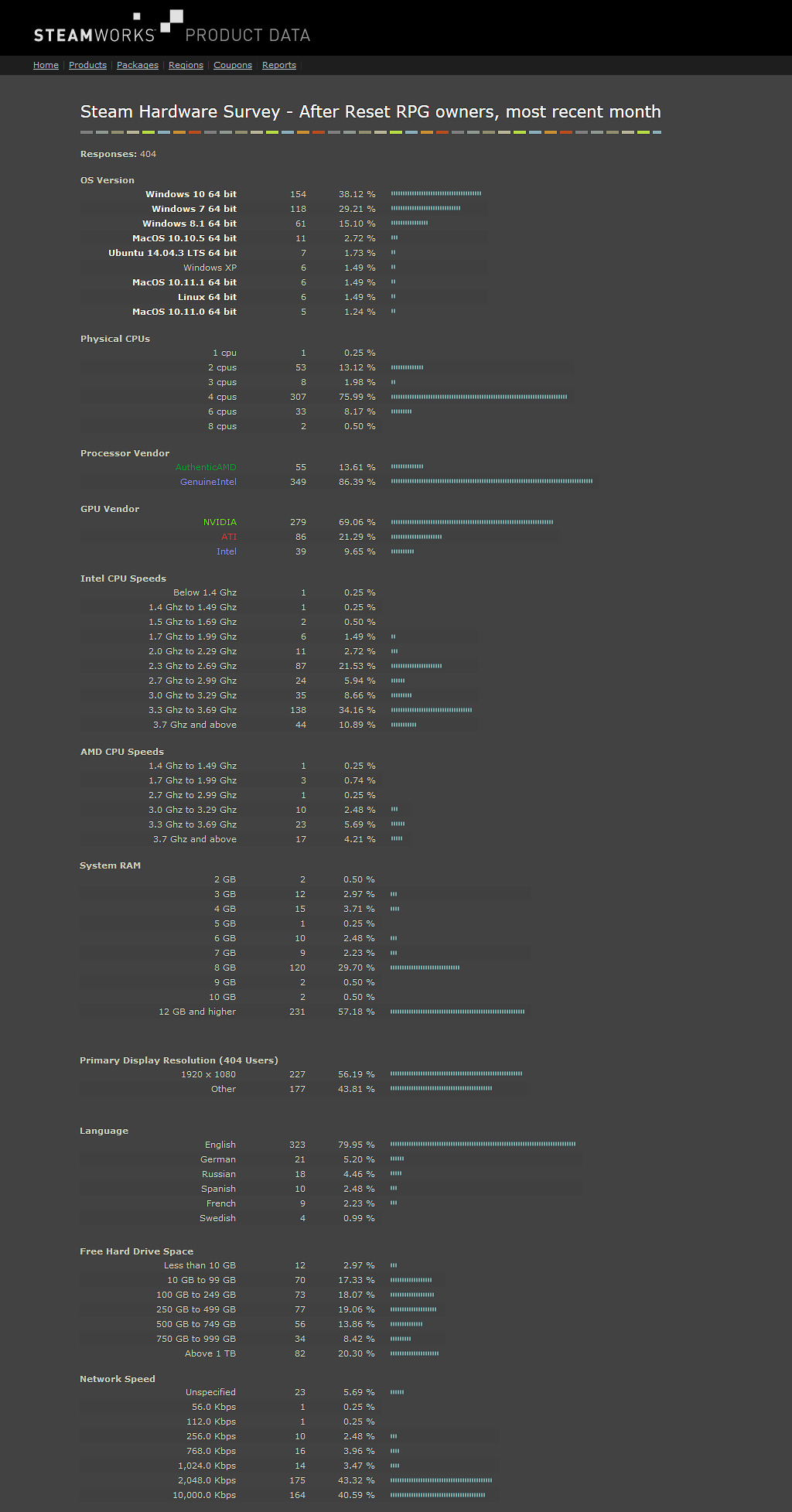 Finally, one of the most promising stats is the amount of Steam users (not backers or customers yet) that added our game into their wishlists (thus are waiting for the game completion) – a total of 6,662 people.

* * *

At the end of this update I'd like to remind everyone that right before this post I've published the closed update (for backers only) with the financial report as well as about all major issues we faced and solved, issues that slowed us down. So, if you're a backer, please check it out!

Thanks, everyone! We'll get back to work on the root Records->Quests->Dialogs for the next update.

See you, and have a happy Thanksgiving!

Add us on Steam Early Access.
Visit After Reset RPG official Store.
Join After Reset RPG official website.