Hello everyone. I think it's time for a Patch Preview. And since there was no patch last week, its rather a big one. In this preview I'll cover the major changes and additions, then the changelog released with the patch (either later today or tomorrow) will document the rest. So, without further ado:
Lighting
The main change, which is fairly obvious on running patch 1.0.6, is the lighting. The whole system has been redesigned, to make it not just more visually pleasing, but also limit the amount of sight you have on entering a new room.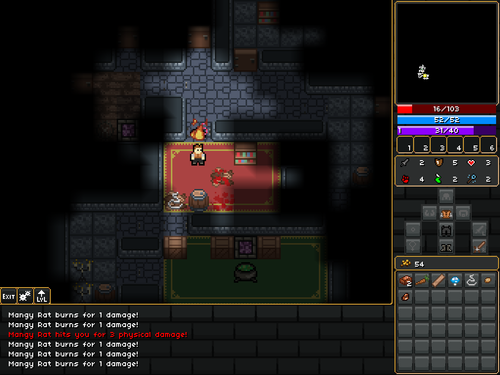 All static world objects (bookcases, crates, barrels, etc), accept those which give off light, limit the players sight, which completely changes how you go about exploring a room. This means that large rooms such as libraries, if careful, can be navigated without monsters seeing you by keeping static objects between you and them, rooms initially blocked by a breakable object cannot be viewed without breaking the object, and enemies can hide out of sight ready to jump out on you. All of this brings a whole new level of strategy to navigating the dungeon.
Turn Strategy
Talking of strategy (it's almost like I actually plan these things before I write them), the way that the player and enemies take turns has been reworked. Instead of the player taking a turn, then all enemies taking their turn at once, the turn counter now makes a stack of all units visible, and steps through that counter one unit at a time. This means that there is no mad shuffle of enemies at one time, no deafening mass 'everyone's attack at once' sound, and no mad splodge of damage numbers splattered above the player's head every other turn. You can now view what is doing more damage, and predict what enemy will move where so that you can prioritise your next move better.
Final Round-up of Important Additions
Loads of new gear (naturally)
A load of new buffs and debuffs
A new potion which applies a random effect when drunk (equal amounts of good and bad effects of course)
Changes to spawned gear and yet more tweaks to overall average difficulty
UI Buttons for main features: Skill Menu, Options Menu, Pause Menu
A great deal of changes to how you regenerate health and mana, and how buffs and debuffs effect you
And the rest of the Changelog which I'll post later
Very Last Point: Caves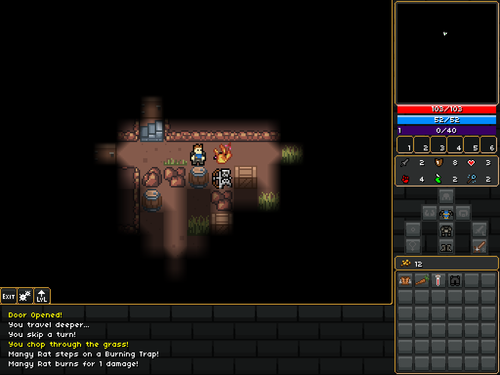 This update was also meant to introduce the cave level to the game, and I have spent a lot of the last few days working on it. However, while it the level generates and stairs generate down to it, it's having some odd effects on save files (current and updated), and I'm certainly not going to release it while that is happening. So caves are being pushed back to the next patch. Apologies.
Patch coming either later today or tomorrow.
~TheIndieForge