A new patch for WarFallen has been released with over 30 updates and additions.
Until July 9th you can get WarFallen for 50% on Humble Bundle and Steam stores.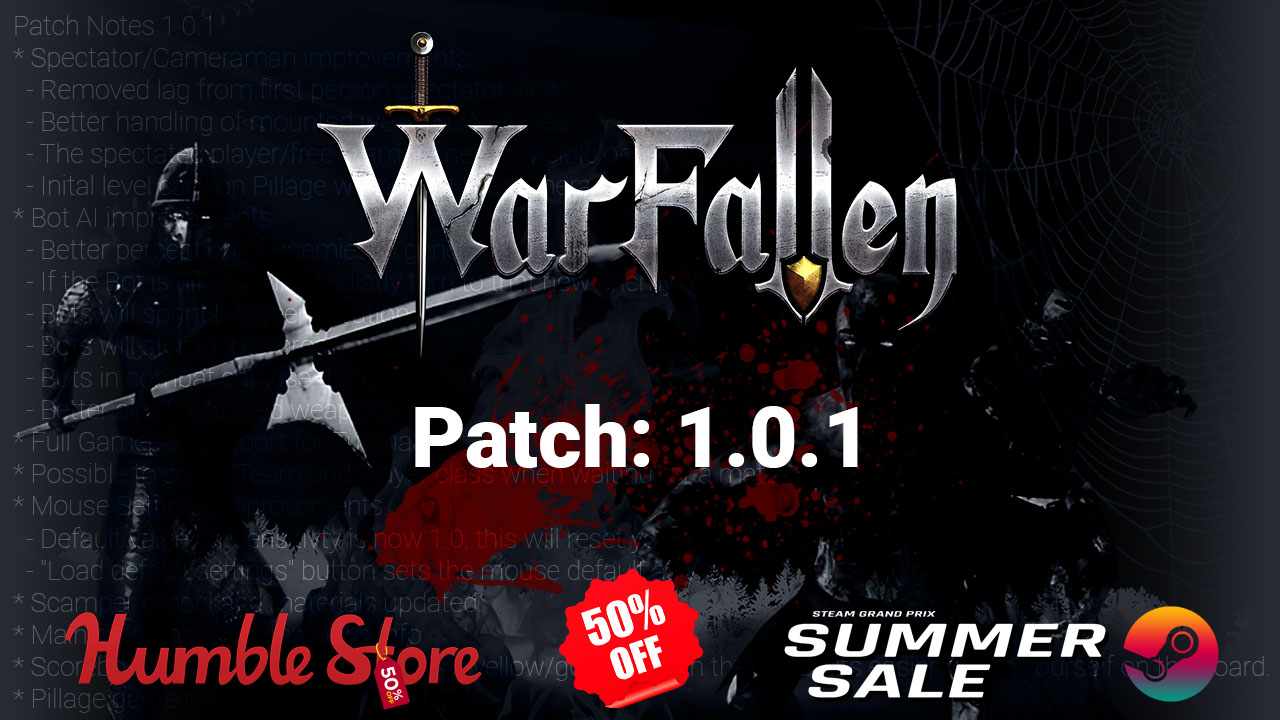 Patch Notes 1.0.1
* Spectator/Cameraman improvements:
- Removed lag from first person spectator view
- Better handling of mounted weapons/vehicles
- The spectated player/free roam camera is visible on the overview map with a new icon
- Inital level cam on Pillage will not roll the camera.
* Bot AI improvements
- Better perception of enemies in general
- If the Bot is hit it will immediatly turn to that new enemy
- Bots will sprint between location
- Bots will stomp rats/crocs
- Bots in combat can use the Migthyfoot
- Better aim for ranged weapons
* Full Gamepad support for Tutorial
* Possible to select Team and Player class when waiting for a match to start.
* Mouse Settings improvements:
- Default value for sensitivty is now 1.0, this will reset your current setting, sorry for that.
- "Load default settings" button sets the mouse default as well.
* Scamper model and materials updated.
* Main menu now rotates news info
* Scoreboard, own player will show as a yellow/golden line in the list. So its easier to find yourself on the board.
* Pillage game mode update:
- Pile can now be set on fire.
- Pile takes 25 damage every 5 seconds until extinguished.
* Crossbow Reload animation, no longer sees into mesh when reloading.
* Game mode changes:
- Reduced initial waiting time for a standalone game from 30 to 10 seconds
- Map forced start time on dedicated server changed from 60 to 40 seconds.
- Delay to make a ready vote lowered from 30 to 20 seconds.
* Added anim trails to weapon attacks. Only visible while trace is on.
* Updated materials on player and npc models, better metallness and details on some of them.
* Ballista changes:
- Can now be set on fire.
- Fire deals 25 damage every second until fire extinguished or Ballista is destroyed
* Powder bomb. The smoke stays longer and is a bit thicker.
* Only count players on a team for endgame screen when giving awards
* Removed counter from the loading movie.
* Damage decals on player models.
* Old Knights Archer first person model updated.
- Fixed mesh around hands and lower arms so that all details are visible.
* Tutorial changes
- Archer arrow kills are now displayed as Killed by the cruel world.