Current Development Logs:
Devlog 1 - Intro & Level Editor
Devlog 2 - Minimap & Character Stats
Devlog 3 - Pre Alpha Gameplay Video
Devlog 4 - Taking Stock
Devlog 5 - Papercraft Remake
Devlog 6 - Artist Introduction
Devlog 2 - Minimap & Character Stats:
Just a quick update to show some progress on the HUD.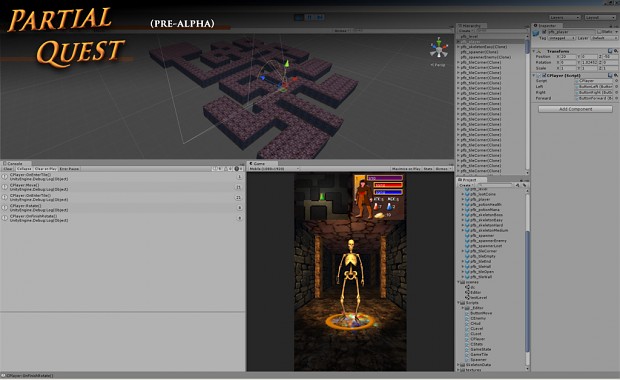 Minimap:
I started gravitating to getting some HUD done so I got the mini-map functioning. This is an important feature. It seemed like one of the more challenging HUD elements so I wanted to get it out of the way and learn everything I need to know about Unity GUI in the process.
I have a flexible system set up so I'm happy with it. The minimap uses the 2D Tile Editor tiles so I don't need additional assets. It has a "fog of war" type overlay to blur out the distance. It also downlights tiles that the player hasn't visited yet. It looks OK for now, and it serves its purpose, so I'm happy with it.
I'm most happy that the system to track and draw the minimap is highly re-usable and re-configurable, so I can re-use the same system for the full map. A key feature of the game is being able to teleport by looking at the full map (the player will click the minimap to bring up the full map), so it's a nice time saver that the functionality to draw the map is already done. The same map functionality will also be used to generate the interactive overworld where the player progresses through the game and enters and exits dungeons.
Character Stats:
Character stats have been created. The game currently tracks and displays:
level
xp & xp to next level
hp & max hp
mana & max mana
atk (physical attack "to hit" rating)
mgk (magic attack "to hit" rating)
health & mana potions
gold
The Character Card on the HUD displays all this info for the player to always see at a glance. The numbers update and the bars scale. It was a full day of tweaking HUD element positioning values but it was worth it. Everything scales and shifts position cleanly according to screen size.