One of the features in the 2D RPGs that i like most is the visualization of the equiped items on the character.
So far i couldn't figure this technique and i used few full sets of character sprites that switch only with the change in the main armor(torso) type, it worked better with the shadows but it's main flow is when it comes to equiped/unequiped weapons, i don't want to render all variations, so i had to choose just one weapon(with ot without shield) for each main armor type. Here is an example, on the left is render with full armor and a weapon, on the right is the new "naked" or basic sprite: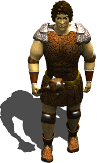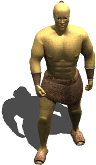 I render the pieces of equipment in all directions with all frames of the character's animations without the areas of the model "hidden" by the body. These are the leather cuirass, helm and club:



Then i draw them over the basic character sprite in game, achieving all the combinations.