I love video games, there I said it! When I say that I love Video games I don't mean "Ah man I love call of duty/whatever is in these days" I literally mean I love video games! I own a pc and an XBOX and I spend most of my time (when not developing video games) Playing video games or hanging out with my great finance Louise. (I know, it's funny Luis & Louise a match made in heaven!) So my whole idea was to create video games and I have been for the past two years. I started off with a game called Subject 80 which was basically a portal rip off. I know in the indie scene ripping off certain games is not seen as kosher so to speak, but hey, I was strapped for ideas!
Then when my obvious and downright shameless rip-off was turned down by every major distribution portal and even my own small following on my website I realised I needed to change and change I did! Without risking going off topic here, let's say that Alternate (My other game I'm working on) has its own feel but I wanted something original, and that is a hard thing to accomplish in any industry. So hence I making Quest for Humour which I think is one of the most original things I have ever conceived out of my brain!
Quest for Humour for me is supposed to be a game where story matters. I think I have accomplished that so far & boy oh boy is it turning out to be a hoot to develop! Now I'm not going to sit here and act like it isn't hard, because it is, even with the great RPG VX ACE engine it still is a hard engine to master. Painting the universe in the game is easy enough but coming up with the graphics and original art is what is keeping me on my toes.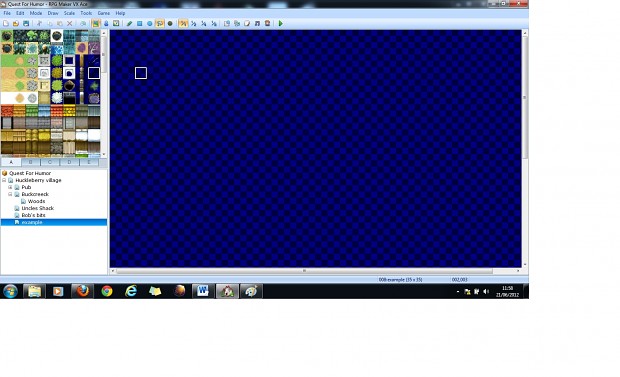 Going from a blank canvas is really a testament to how much work goes into making the game world interesting and RPG like if you will.I really enjoy the whole aspect of painting down the game world and then testing it and seeing how it plays, that's the best part, playing your painting so to speak!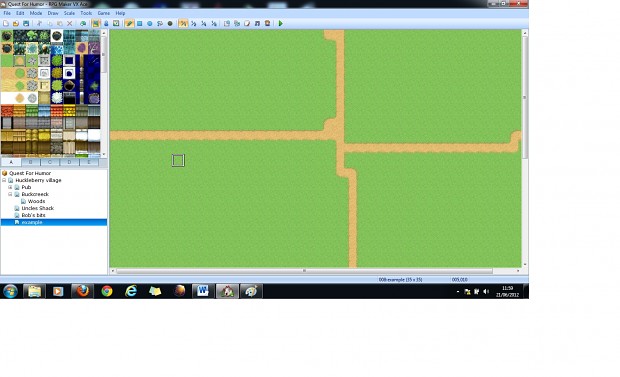 Now I have some grass on here, it's starting to look like something...... Maybe a square park of flat grass!Trying to get a good feel for the world is the ultimate goal when making any game so the first thing I do other then sit and stare at the screen for hours asking why me, is lay down some pathways so the player can get a sense of the world and the direction he is going!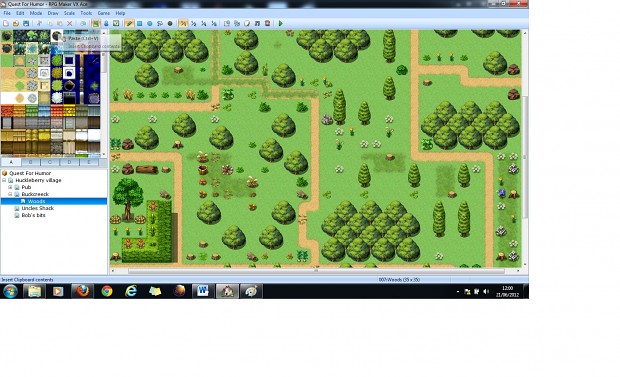 After all of the paths are done then I just fill out the blanks so to speak and make an interesting world to play in.
I wanted to write this article so people can get a sense of what I am trying to accomplish, This article is about the visual side of designing the Game, Next week I will be discussing the story side of the game and how the quests and game world meet each other in a weird melting pot of my creating.
Thanks for reading. Luis "Killah K2" Samways FounderPurple Face Games