First thing on the list is the change to the main character Kenoshi Kadash.
In the screenshots here: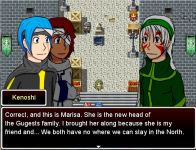 You can see Kenoshi in the blue hair. This has been changed, now Kenoshi is now has black hair and is wearing brown armor -

To the right you can see the massive changes to the character.
The next overhaul is the removal of the character protraits you also see in the full screenshot above. Originally I was going to have one for every major character, but I found the idea of having to draw every character twice with emotes to be a little too much and all of the programming which isn't fun. There is a replacement though that you will see in the Additions section.

Can't say there is too much here but here it goes:
1. Much of the games dialogue will no longer be down below, but will be bubbles above the characters heads. This looks a lot cleaner and makes it easier to see who is talking and I feel also puts you more into it when the text isn't just below them and it just looks like they're staring at each other.
2. Combat hasn't changed, currently it is still a side-view turn based system, but now has full animated enemies and party. So now the enemies will be moving, and the party characters will attack with the weapons they have equip and you will even see the weapon hitting them.

1. Now the start of the game is longer, before in the start it went straight into cutscene after cutscene but now it brings you 3 years prior to the events of the story and will put you into the action. Also adding tutorials which weren't there before.
2. Manga Cutscenes, during some points in the game, I will have fully drawn manga-style cutscenes that will move the story along. Otherwise there will be scenes that won't be fully drawn but maybe a new character who enters the room a drawing of them coming in will be there.
Here is what it currently looks like, the dialogue isn't the best but I think the idea of the style of cutscene came through very well:
Other then that, I hope you enjoyed this update!