Wolfire are giving away free copies of Lugaru. All you need to do to receive your free copy is join Facebook, sign up on the Facebook event and become a fan on the Overgrowth Facebook page. Go here if you want video instructions. You will recieve your gift on christmas day, so make sure to tell all your friends about this event before it's too late! Now lets get to some map editing.
When making your map you can use World Machine 2 to make your heightmaps and terrain textures, when you have your heightmap and texture you can load up the editor and start adding models. Wolfire are trying to make their map making system as flexible as possible, so instead of having many house models, they have a few wall models, window models, door models and so on, that can be combined to create unique structures. This way they won't have to make as many models while still having flexibility, the same model that is used as a pillar can be used to make some stairs, or the corner of a house. This also conserves memory as the textures for each model only has to be loaded once.
The manipulation of objects is really easy to grasp, you click and drag at the corners to scale the objects, the edges to rotate it and the faces to move it. If you use the left mouse button the manipulation is global (scale it in all directions for example), while the right mouse button is specific (scale it on only two axises for example).
If you hold shift and right click you do the manipulation on only one axis. Here is a picture showing how the manipulation system works: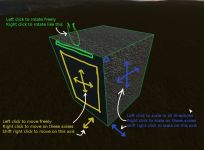 Overgrowth is currently in the making, but Wolfire value their community highly, therefore everyone who preorders get access to weekly alphas. The following picture shows some of the new stuff in the latest alpha: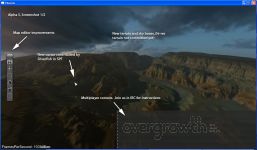 That's all for this update, thank you for reading and stay tuned for more.
Pro tip: If you want to get the very latest news and talk to fellow fans and the developers of Overgrowth, join the Wolfire Games' IRC channel, #wolfire on irc.wolfire.com (quick link if your IRC client can take it). For those of you who need further instructions on how to join the chat, go here.
And join Overgrowth's Steam group to get the news from there.