Greetings all!
I am hard at work getting the next phase of game which is the bit where you actually play the game (would be useful I know!) though for now I have decided to completely ditch the old town and go with something new and fresh. Behold the new town!
Obviously this is just a very small part of the town which is, in fact, quite large. I have also been playing with the idea of voice acting, if even a little bit, to make things more interesting. I would say the into sequence is about half done. I am getting a friend to help me with this project so there could be a lot of development soon!
I would also like to introduce two new characters that will be joining our hero on his journey!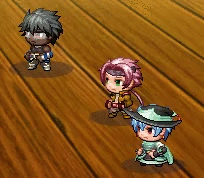 What are their names? Its a secret! or I haven't decided!
Watch this space!
Jen