We are proud to say that we remain victorious thus far with the Play With Dev weekly matches.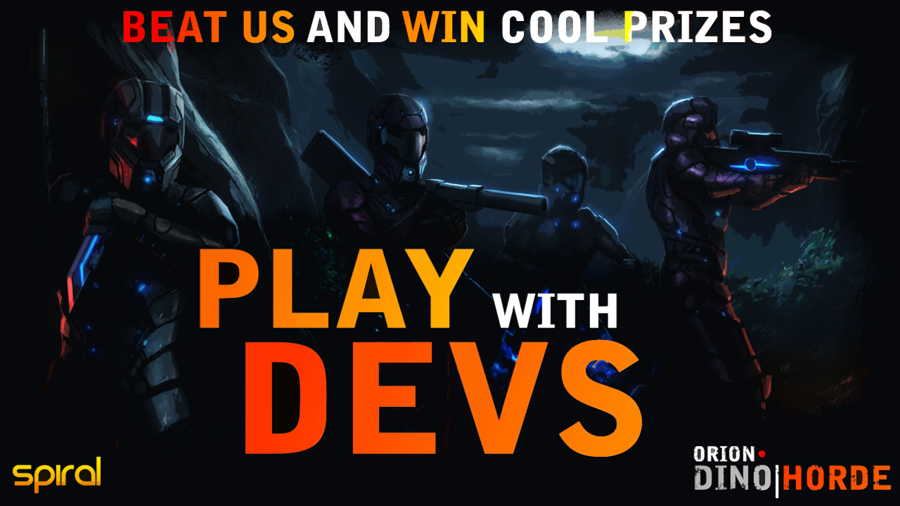 MATCH 002 DETAILS
The second match is upon us and it's going to be a great one. We reigned supreme in Match 001 and intend to continue that stride through Match 002:
DATE: May 19th, 2013
TIME: 1:00PM US CENTRAL
MODE: Ninja
ROUNDS: 10
WIN RULES: First to 3 game wins.
MATCH 002 - FOOTAGE (3 PARTS)
PLAY WITH DEVS - EVERY SUNDAY
We finished up the second match this last Sunday against a team of Dino Hunters. Instead of the typical 5 v 5 it was more of a 3 v 3 due to the other team missing some players.
GAME MODE - NINJA
We played the game mode Ninja which is a Team Elimination game mode that is 5 v 5 and focuses on Stealth-based gameplay, assassinations, long range (sniper-type) weapons, shotguns and other key game components such as Rolls, Power Jumps, Melee's and the Cryo Knife.
TEAM 001 - BLACK LEGION (Developers)
"Praz"
"Gundy"
"Glaite"
"jwvd"
TBD
TEAM 002 - PURPLE REIGN (Rebels)
"TJ Gann"
"Carola_Nieto"
"Goose"
"Purple Mikey"
"Blue Shark~Vault Boy /CZE/"
WHAT IS THE CURRENT PRIZE? (Q2 2013)
The current prize is the rare and exclusive Developer Armor Pack which includes 5 Character Packs:
Bronze Hammer
Chrome Hammer
Electric Hammer
Hot Pinker Hammer
Silver Hammer
WHAT IS 'PLAY WITH DEVS'?
It is a weekly competition that lets gamers square off against Developers at their own game and receive prizes for winning.
HOW TO APPLY?
Send an email to pwd@spiralgamestudios.com and let us know how many are in your team / party (5 maximum).
WHEN / WHERE ARE THE MATCHES?
Matches take place every Sunday @ 1:00pm US Central time.
Matches take place on Spiral's Dedicated Servers.
CONNECT: