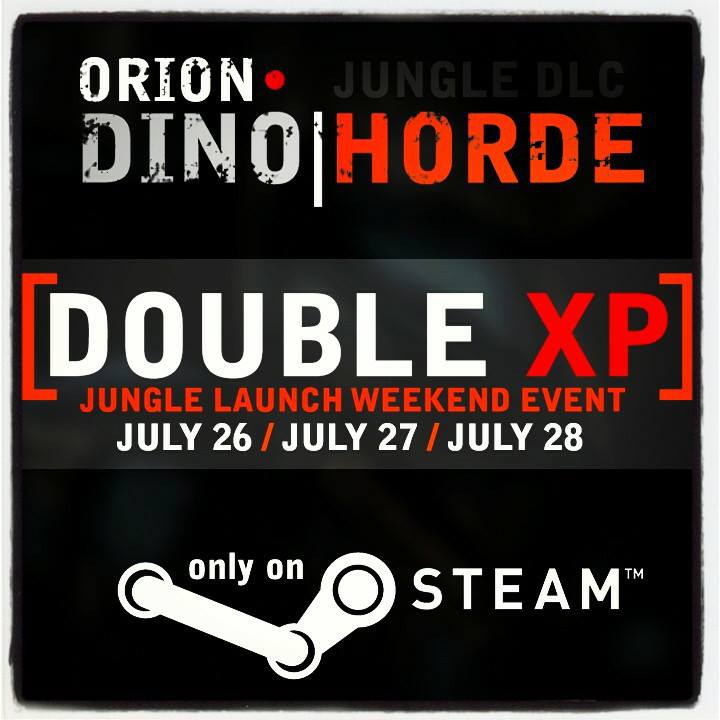 IT'S A CELEBRATION
This is to celebrate the launch of the massive (and free!) Jungle Update that came out on Steam this week. This update added a wealth of new content including Persistence and Leveling among new modes, maps, weapons, items and even a new Dinosaur.
It is time to grind and get your favorite class leveled up as much as possible with the bonus experience! What class are you going to focus on this weekend?
VERSION 1.07a - NOW AVAILABLE
We are also including a new game patch just in time for this event. Version 1.07a addresses the following:
01 - Fixed speed exploit on speed-locked weapons (Gatling, Flamer).

02 - Fixed Dinosaur names on Scoreboard for Rampage mode.

03 - Fixed Egg-related issues (Light Attack, Drops).

04 - Fixed 3rd person Bow-pull arm.

05 - Fixed XP / Stats saving bug.

06 - Fixed News Post overlapping / not cycling.

07 - Fixed issue with too many "extra" dinosaurs on Insane mode.

08 - Added DoubleXP for the weekend!
SLAUGHTER COMPETITION
We are kicking off the launch of the new Jungle DLC with a brand new competition (SlaughterFest 2013) that focuses on the new Slaughter Cooperative mode.
RULES:
The Top 5 highest people (via Leaderboards) will receive the Developer Armor Pack (5 armors).
The winners will be chosen AND based on August 25th, 2013 readings - exactly one month from now AND the games birthday (she turns 16).
The current record is held at 12 minutes and 18 seconds:
Additional details and submissions can be found here.
>>BUY 'ORION: DINO HORDE' ON STEAM - $14.99 USD
>>VISIT THE SPIRAL COMMUNITY
CONNECT: