Today we bring word of the first details and the official release date for the second (and free, again) DLC pack for 'ORION: Dino Horde' - Desert DLC Pack: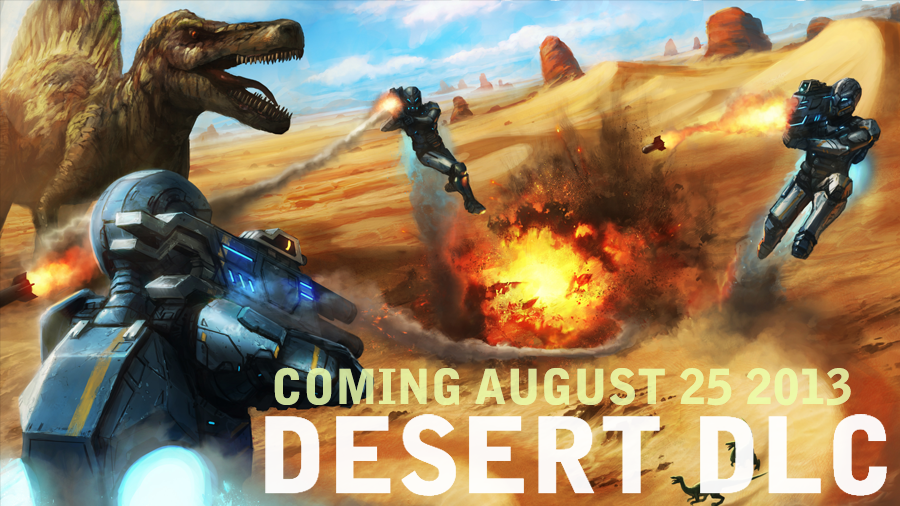 DESERT DLC - FIRST DETAILS
1 New Weapon
2 New Game Modes
2 New Maps
New Hats
New Taunts
New Character Packs
New Spiral Store Category (4th)
New Augment Types
100+ New Steam Achievements
New Difficulty ("Super Insane")
+more!
DESERT DLC - RELEASE DATE
The second DLC pack for 'ORION: Dino Horde' will be released on an exceptionally special calendar date, if not the most special date on Spiral's calendar. August 25th, 2013.
BIG THINGS ARE COMING...
August as a month is incredibly special to us as it's been the month we've made every major ORION-related announcement with the first occurring publicly on August 25th, 2000 to publicly announce what was known at the time as 'INCOMING' which as many of you know later became to be what we all know today as 'ORION'. You can read more about that history here.
We are going to be celebrating this year in a very, very, special way.
>>BUY 'ORION: DINO HORDE' ON STEAM - $14.99 USD
>>VISIT THE SPIRAL COMMUNITY
CONNECT: