ACTION TUTORIALS ('THE ARENA')
Originally we had considered quite a few options in order to get players comfortable and familiar with the new and existing game mechanics. We were going to simply do a basic Virtual Reality type level which let the player learn some of the mechanics such as Jetpacking to platforms, Weapon Accuracy tests and other things you've done thousands of times in other games. We decided to go about it in another way…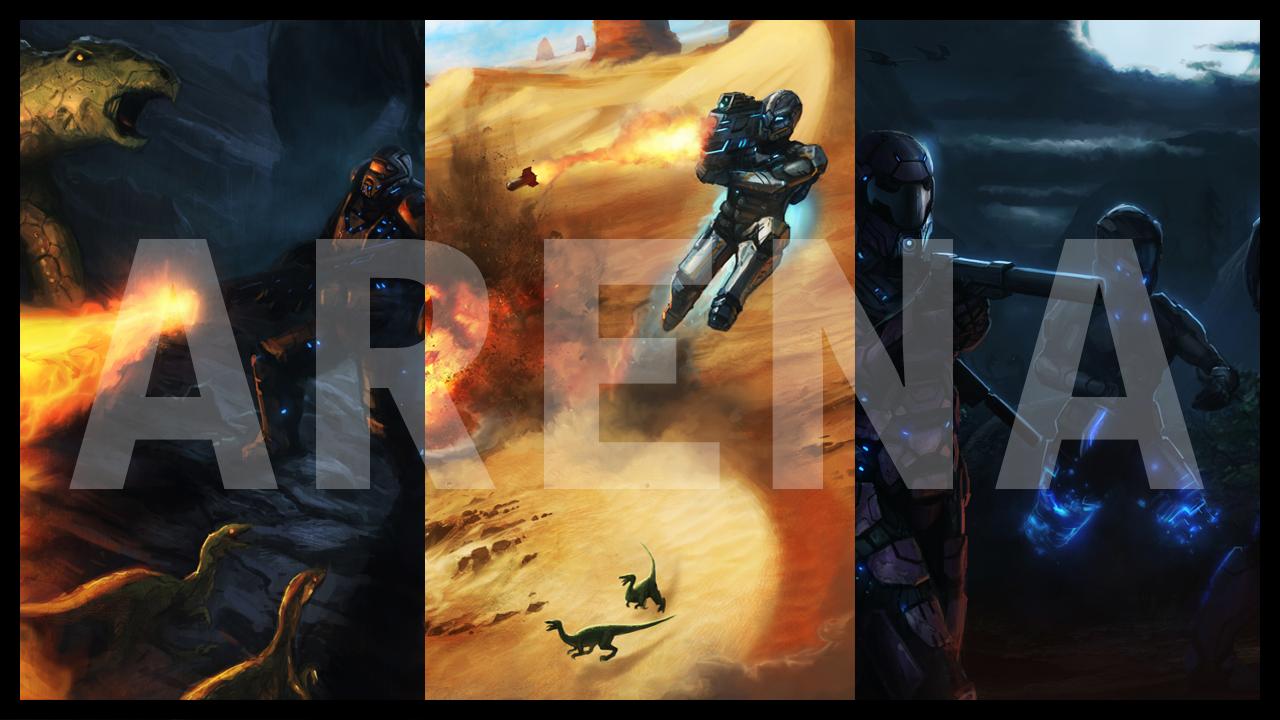 We are calling these modes "Adrenaline Tutorials" (or Arena, if you prefer one word). These are focused experiences that allow players to understand all 3 Player Classes in the game in a fun, fast and efficient manner each with their own game-mode-type and focus on the class-specific Adrenaline Weapons, Augmentations, Abilities and Battlefield Mechanics.
ROCKETEER
Class Focus:

Assault

Ability Focus:

Jetpacks

Weapon Focus:

Rocket Launcher, Grenade Launcher, Shotguns

Mode Type: FFA, Deathmatch (10 Player)
Augmentations: Landing Cape (No Fall Damage)
Battle Mechanics: Air Evade, Roll-Dodge, Target-Lead.
DUDE HUGE
Class Focus: Support
Ability Focus: Medical Gun
Weapon Focus:

Gatling Gun, Flame Thrower, Shotguns

Mode Type: King of the Hill (5 versus 5)
Augmentations:

Iron Pecs (2x Shield), Stasis Fury (Leash)

Battle Mechanics:

Healing, Fallen & Revival, Point Capture, Close-Quarters Combat
NINJA
Class Focus: Recon
Ability Focus:

Cloaking Device

Weapon Focus: Laser Rifle, Energy Carbine, Shotguns
Mode Type:

Team Elimination Deathmatch

Augmentations: Power Jump (3x charged jump)
Battle Mechanics:

Stealth Assassinations, Cloaked Traversal, Dodge-Evade, Death From Above, Long-Distance Combat
THE RETURN OF COVAN, DEPTH & EDEN
The great thing about the addition of 'The Arena' was that it allowed us to revisit and revive some familiar faces, namely the original worlds: Covan,Depth and Eden.
These levels return in a new form and manner and are fitted for Arena-styled matches. Each level encompasses the "style" and "vibe" of their former larger brothers and sisters. These are some of the most detailed environments in the game and it feels good to be standing in a familiar environment that many of us haven't seen in quite some time.
MULTIPLAYER BETA, PRICE & RELEASE DATE
We know a lot of you have been anxious for some dates and official information regarding all of the upcoming awesomeness. We are now finally able to do that.
Note 1: You can register for the Multiplayer Beta here.
We look forward to seeing you on the Dino Battlegrounds - both as friend AND now foe!