Eight Days in Convoke - Orient
It's been a long journey for reasons I cant quite fathom, but I can now announce that Eight Days in Convoke – Orient is finished , has been submitted for approval and is now available. It should be available in the next few days through Desura.
It should be noted that your copy of Eight Days in Convoke will not notify you of the new release. You will have to update through the Desura client itself or through downloading the latest .ZIP standalone. Another note is that saved games and settings will not carry over into the updated game meaning you will have to play through the vanilla levels again if you wish to restore your star collection to its previous state, or you can edit the "data.save" file if you feel you wish to restore your hard earned stars without replaying.
The DLC includes;
15 New Levels.
Various bug fixes.
New audio system.
Audio settings.
Optimised file system, including new save system.
Tweaked visuals and resources.
You can get all this for free by updating your copy of the game. If you haven't already purchased Eight Days in Convoke you can do so by clicking the button below or you can read on and grab yourself a deal!
Bundle
As I alluded to above, Eight Days in Convoke is available at the moment through The Mothership Bundle over at IndieBundle.org (A link can be found here: Indiebundle.org). You can grab a copy of Eight Days in Convoke, Mayhem Intergalactic and Beware Planet Earth! For only $5 and redeem your code on Desura. Plus you will receive a free copy of Fulmination when your purchase the bundle.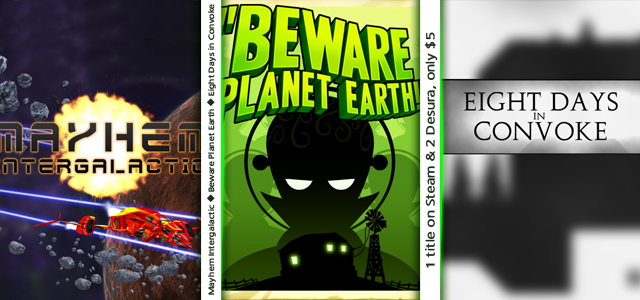 Thanks for reading and I apologise for how long it has taken to complete this update.
Enjoy the new levels!
-Chris