Microsoft today announced the 13 teams who are advancing to the 11th annual Imagine Cup U.S. Finals, the world's premier student technology competition, honoring student technology innovations that address the world's toughest problems. Our very own Produce Wars is one of these 13 finalists! The U.S. Finals will take place on May 13 in Silicon Valley and will be streamed live on the U.S. Imagine Cup Facebook Page. Almost everyone is familiar with the Silicon Valley.
The booming technopolis in the Santa Clara Valley of California is the epicenter of the American high-tech sector and is home to hundreds of the world's most innovative companies including eBay, Google, Apple, Cisco Systems, Hewlett Packard, Intuit, Yahoo!, Intel, and Gigaloth Games. Wait a minute. Gigaloth?
That's right folks.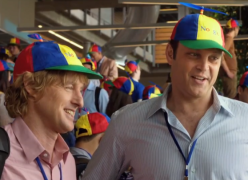 No, Silicon Valley is not our home, but it will serve as a nice getaway for a few days. We recently submitted Produce Wars into Microsoft's Imagine Cup competition, and have been blessed with the opportunity to present our game to Microsoft as a United States finalist on May 11-13 in California.
I imagine it'll be something like that picture with Vince Vaughn and Owen Wilson.
Obviously, we here at Gigaloth are ecstatic and humbled by this opportunity. Out of the remaining 13 teams in the U.S. Finals, only five of them are games (the others are some seriously cool and innovative apps). This means that Produce Wars is being considered by Microsoft as one of the top five game entries into the competition.
Not bad, huh?

Right now, the temperature in Silicon Valley is a comfortable and sunny 62 degrees. Here on the front range of Colorado, it is currently 30 degrees with over a foot of snow on the ground.
It's safe to say there are a couple reasons we are excited about going to California.
You can keep up to date with Imagine Cup news and updates by visiting their website, or by liking the Microsoft Tech Student Facebook Page. Of course, we will keep you up to date specifically about Produce Wars here on our website, Facebook page, and twitter account. Please show your support by visiting the Steam Greenlight page for Produce Wars and giving us an up-vote!