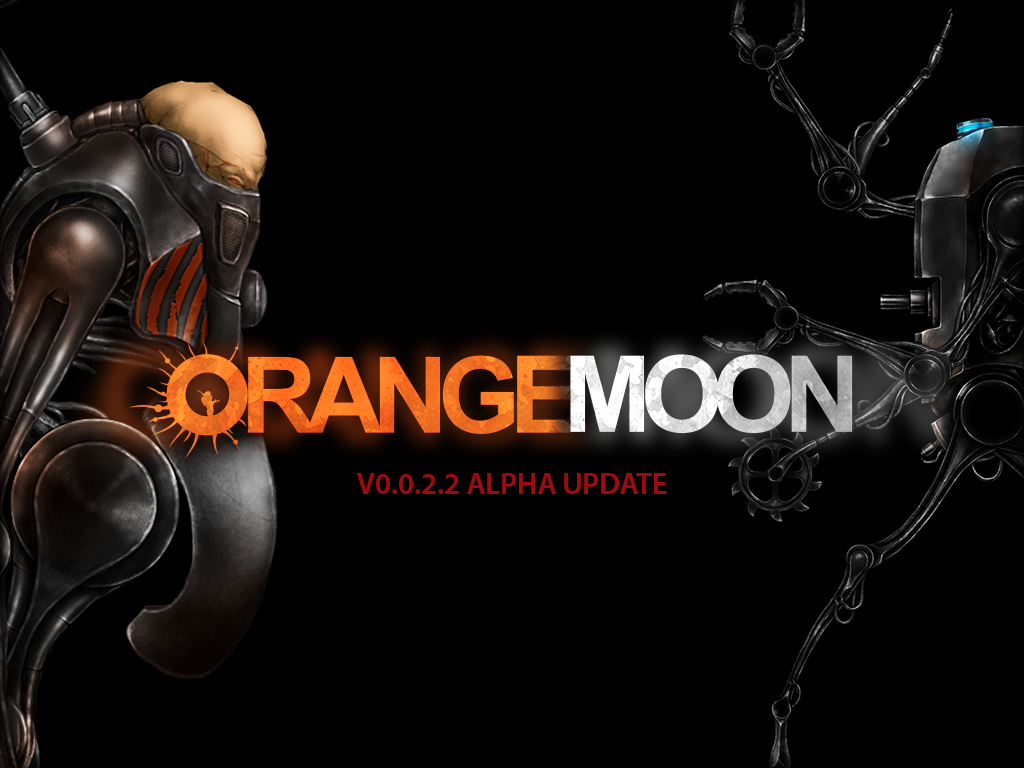 V0.0.2.2 alpha is finally complete. New 5th level, called "We Recycle", featuring "Recycler" boss, 2 new puzzles and new hidden secrets added to Orange Moon.
The v0.0.2.2 is a huge update that includes two new levels - 4 and 5, five new puzzles, boss, new Moon Piranha enemy, new scenery, improved visuals, level layout improvements and bugs fixes.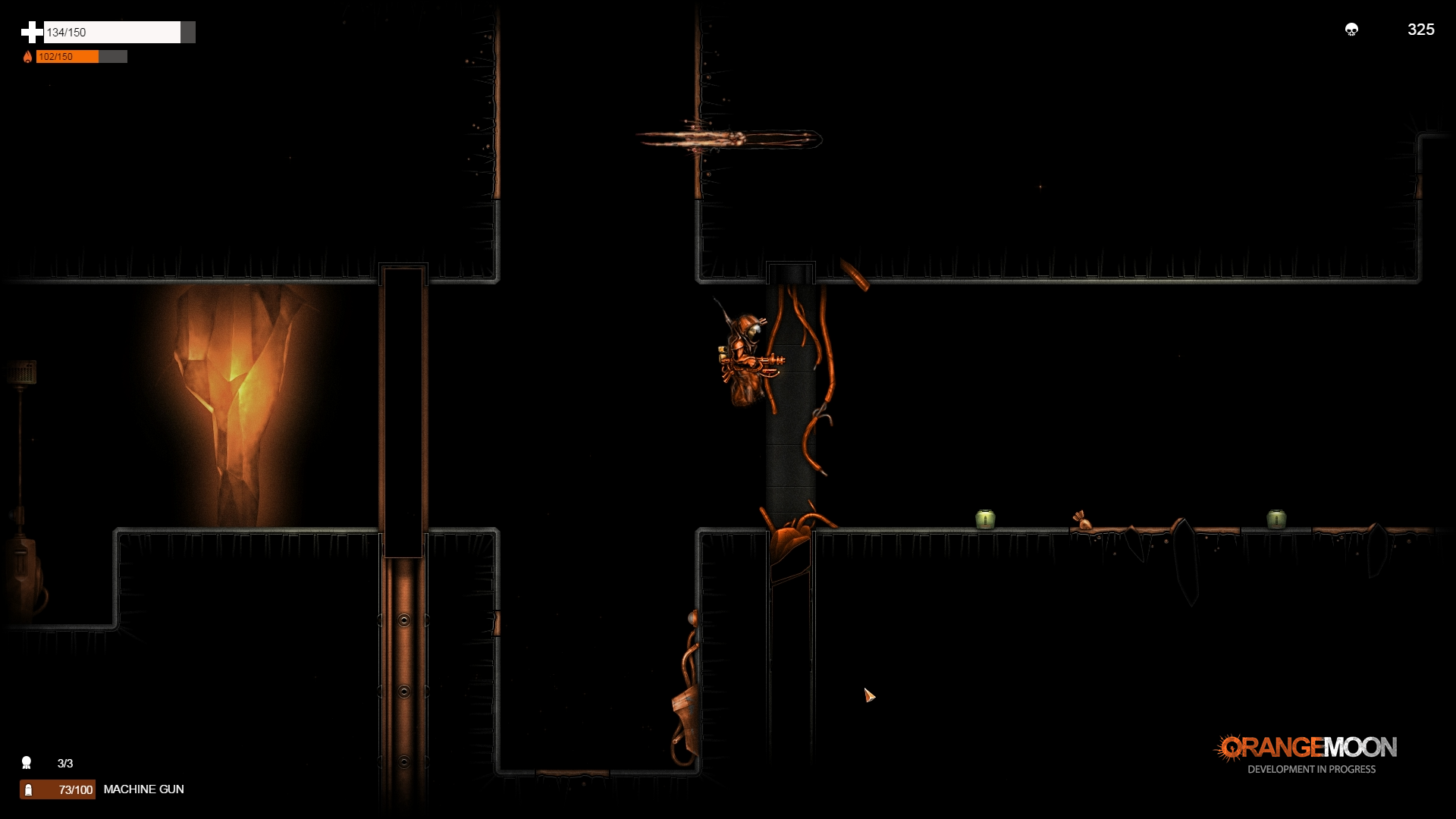 If you missed "Recycler" boss, as well as the other members of Orange Moon family mentioned in "Orange Moon. Most dangerous Part 1" feature on IndieDB I've posted some time ago, here is the link(opens in a new window).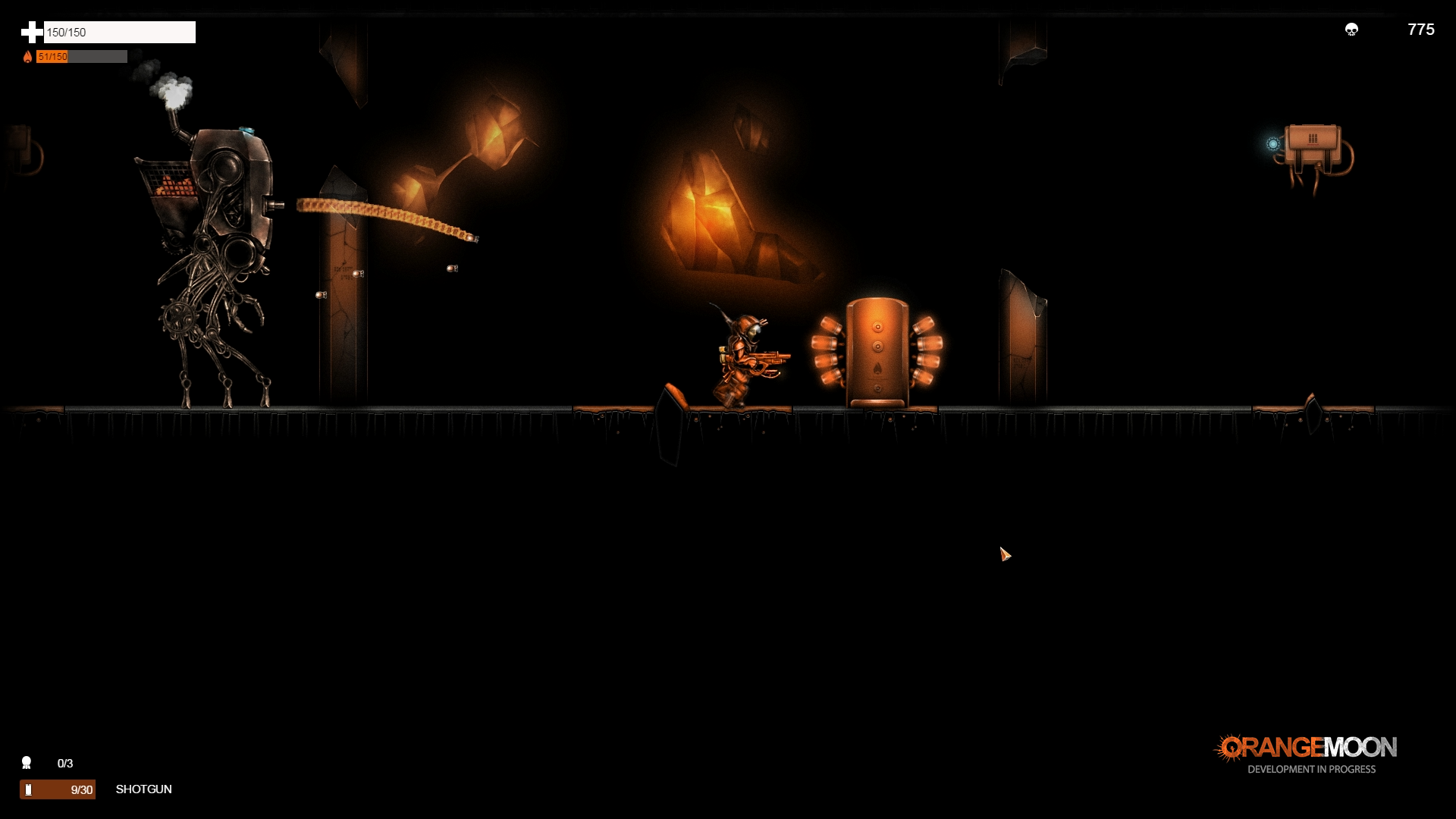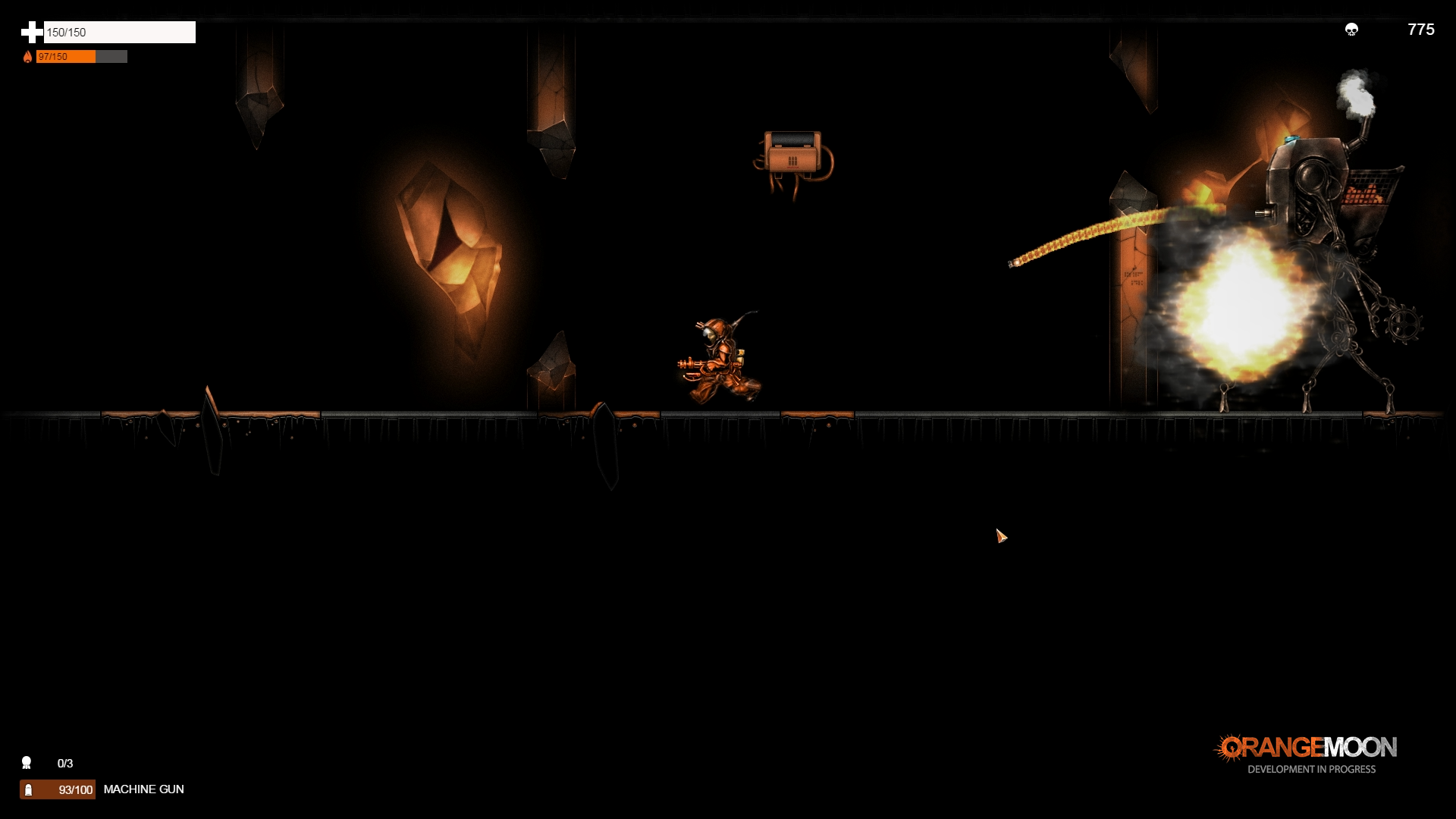 Recycler is the first boss that you will encounter on Orange Moon.
Recycler is a moderately intelligent and heavily armored machine used to clean up mining areas from debris and protect the area from native lifeforms. Equipped with stone cutter, laser cutter/drill, two arms, Grenade launcher and flamethrower. Just a few left on the moon, and only couple of them still functional.
List of v0.0.2.2 alpha improvements:
Level 4 with 3 new puzzles;

Level 5 with 3 new puzzles;

Deadly new boss - "Recycler", shoots grenades at range and uses flamethrower if approached;

New enemy - Moon Piranha;

New larger ammo containers for grenades and .308;

Crates that spawn grenades if shot with machine gun or shotgun added;

Fueling station that recovers player's fuel added;

Improved visuals;

New scenery;

New sound effects added;

Fixed some positioned sounds when they did not play correctly or at all;

Fixed Loader's power strike on player prevented end game menu to appear after player died;

Loader key spawning fixed;

Moon Rose doesn't damage player after set on fire;

Improved Loader AI. It's now even harder to kill;

Fixed upgrades for shotgun;

Roller enemy can now be damaged by grenade and its explosion;

Fixed end level camera;

Spikes damage increased;

No fuel used for single jump;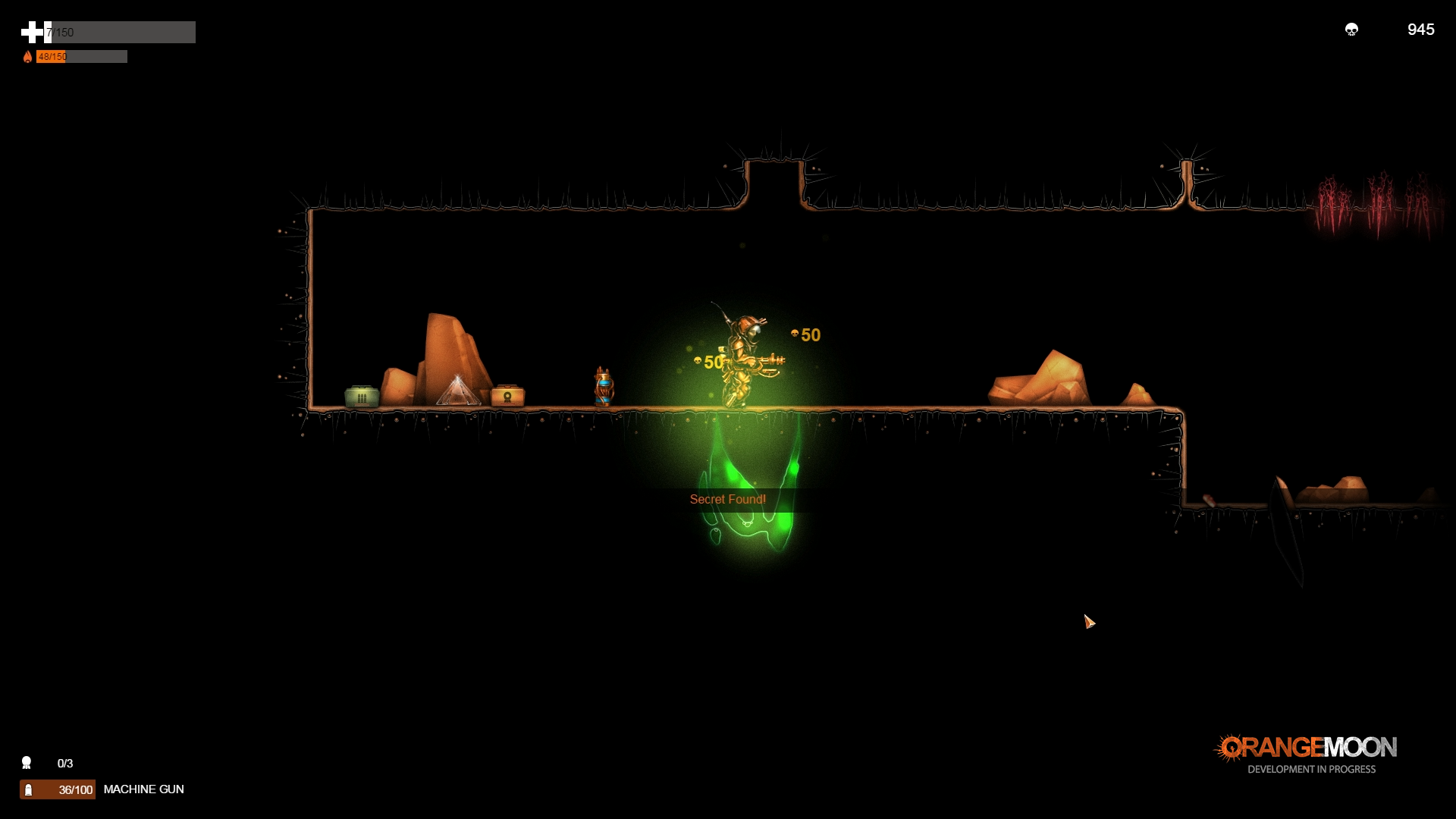 Whats next
I believe that Orange Moon is now ready for Early Access on Steam and will be working in this direction.
Below is the list of features that are already in the game:
5 levels;

7 types of enemies;

Boss - "Recycler";

5 types of weapons;

4 types of ammo;

2 weapons can be unlocked with points collected during the game;

49 upgrades for weapons, ammo and equipment, plus 12 ammo capacity upgrades for 4 ammo types;

1-3 puzzles on 4 levels;

Dangerous environment - Moon Rose, spikes, Thorns, swamps;

Ammo and upgrades can be bought in game for score;

And much more.
About Orange Moon
Find your way through landscapes of Orange Moon, 2d action platformer game with RPG elements and puzzles, full of dangerous native life forms, raiders, remnants of alien civilization and harsh environments. Search for a new life and natural resources, deploy beacons for mining drones, and find ancient alien artifacts that will help you in your exploration of Orange Moon. Augment your explorer to make him suitable for upcoming challenges, upgrade weapons and ammunition with ancient alien technologies and materials you'll find in your journey.