Welcome to the 9th development diary!
The Pre-Alpha test release has had 20 downloads since its release last week, and it's still available to download, so feel free to post your comments on it here. Thanks for all the feedback given so far.
This week, we've been looking at the network side of multiplayer, and getting the online highscore tables operational.
Earlier this week, I managed to get a basic 2 player network test running, where player positions were synched, but I'd like to have another go at making it more efficient, unfortunately network code is not my strong point, so don't expect to see a fully operational mode for the time being.
Progress on the online highscores table has been much quicker. Using the GMechanism API by Luke Escude, I have already managed to get online highscores working for the Survival mode, online scores are currently only uploaded for singleplayer Survival, I'll have to look at if it's possible to have multiplayer scores uploaded. Either way, local highscores will be available for both singleplayer and multiplayer matches. In order to upload highscores, you should have a registered GMechanism account, you can signup and login via the main menu.

Login form at the main menu. GMechanism Logo, property of Luke Escude.
Just to clarify this now, levels created by the level editor, will not be eligible for online highscores, however, local highscores should still be possible.
Aside from the network test and online highscore table, I also took a look at some of the bugs reported by the Pre-Alpha testers so far, a couple of them I was unaware of, and these will be fixed in due time. Thank you again for reporting them.
Over the coming week, I want to finish up the online highscores, fix the bugs found in the Pre-Alpha, add another enemy, and maybe have a look at the level editor.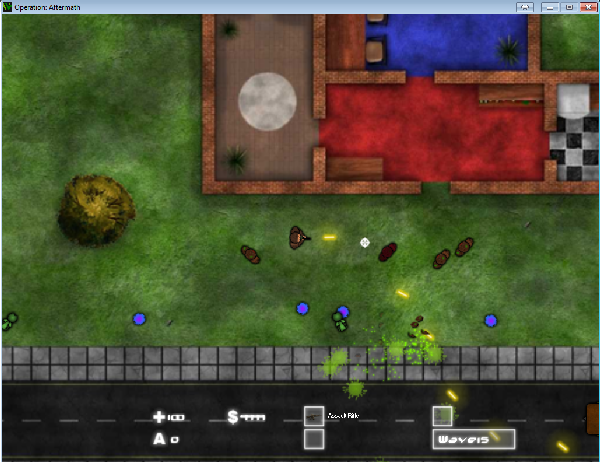 Next week, we'll have yet another enemy to fight against
Remember to keep up to date with the development status mid-week by following the game on Twitter.
Check back next weekend for another development diary.