You may have noticed that Steam is currently running the Open World sale. We consider ourselves pioneers of the open-world exploration genre with our truck sims, and we are happy that both Euro Truck Simulator 2 and American Truck Simulator have been included in such an offer among other great titles.

We had a really fantastic time with our #BestCommunityEver on our developer stream yesterday. It was a pleasure to present our progress on Convoy, our take on implementing multiplayer support into our games Euro Truck Simulator 2 and American Truck Simulator.
Currently, this new feature is still under testing in Experimental Beta for American Truck Simulator. But as of the upcoming Update 1.41, Convoy will give you a chance to enjoy both games with your friends! We thought that this is a great opportunity for us to make it a no-brainer for loyal fans of either of our games to pick up the other title if they are still missing it in their game library. We have created a special time-limited Open World Trucking Bundle through which anyone can easily grab ETS2 and/or ATS. No excuses, everyone will be ready to join their friends' convoys!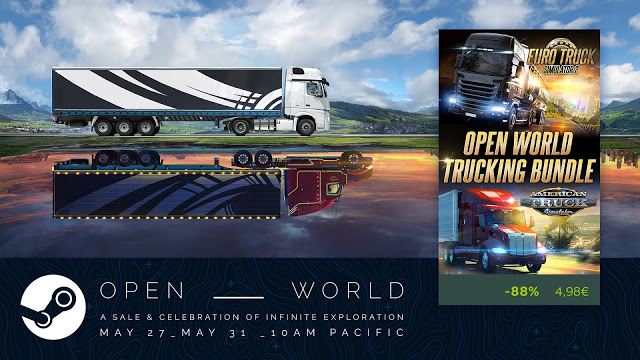 The sale is already underway and it will end on May 31st at 10:00AM PDT (5PM UTC). Besides both of the games being on sale individually, the whole bundle will be a part of the sale too. Also, don't forget to check out some of our other games and DLC as they are receiving a discount as well.
We hope we'll see you and many more new faces on the road!