This new update allows game update via Launcher, so you guys will don't need to update via Desura client anymore.
We're also putting a stand alone activation method, so if you buyed Oniken and did not activated yet via Desura, you can make this using the in-game Launcher.
So, our next next update will be made via Oniken Launcher, without any other external software or webpage.
For now on, you guys will see the launcher like this: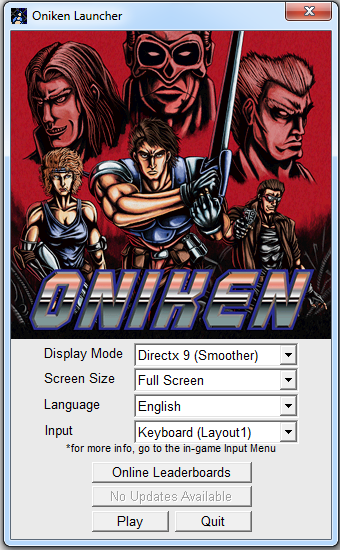 After this update you will see the "No Updates Available" message ready to be clicked. So you just have to click in the button and wait for the download finishes.
Oniken now also have French language support thanks to Bobby Roy and Czech language support thanks to Šmirgl Vojtěch.
IMPORTANT
If you get any "connection error" message from the launcher in the next update, make sure if Oniken's folder isn't in a protected folder. If so, execute the launcher as administrator.
Thanks to everyone!