Willys Jeep - In Development

We're currently working on new artwork for WWII Online: Chokepoint which will then be made available for WWII Online 2.0 (you can safely assume all artwork will be done in this manner), and today we'd like to show you the progress of the famous, "Willys Jeep." This is an early work in progress, and thanks to your continued support through subscriptions, new possibilities are coming. We have two work in progress screenshots contained within the article for you to see!
WILLYS JEEP
Everyone can recognize the Willys Jeep, it is one of the most iconic vehicles ever built. We're adding this into WWII Online: Chokepoint initially as a static object for the purposes of populating the environment scene, but there's nothing to suggest that we couldn't build a working vehicle from it in time. Did we just say vehicles in WWII Online: Chokepoint? We did - and it is a goal of ours, but we are not at that point... "yet."
This model can be expanded by an animator to include moving pieces (which is part of the normal build process anyways) and our artist developing this (SADGUY) is being very particular to consider that in the future, which will make the animator's job easier once this matures more.
But for now, again, expect this to be a static object initially in WWII Online: Chokepoint.
We want to emphasize that this is a work in progress and more detail on the model is inbound. This USAAF jeep on the left was a photo taken at the Madras Oregon Air Museum, where they have a tremendous collection of warbirds still able to fly.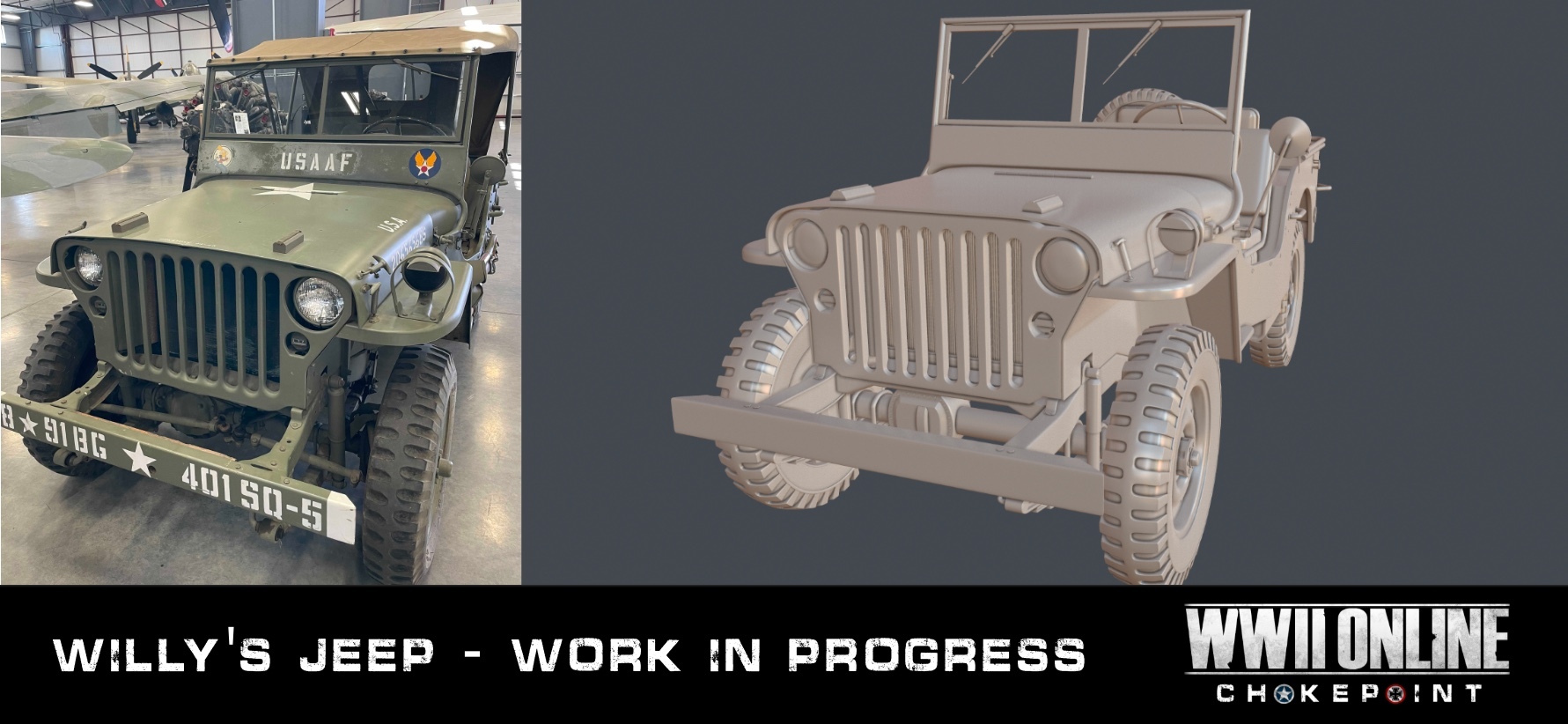 Here's a great side shot showing a bit of the interior and exterior. We'll continue adding more items to this, but it is unlikely it'll receive the canopy on top.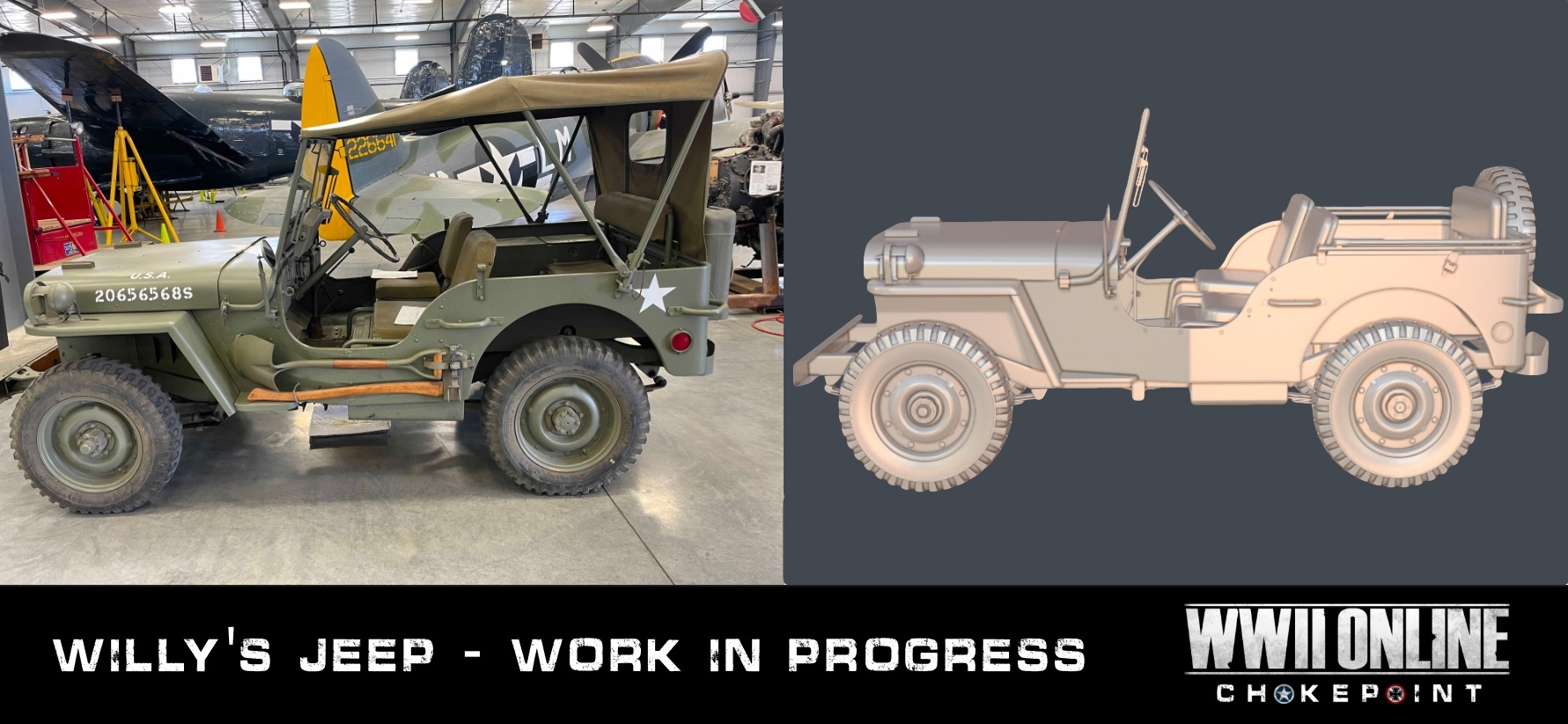 So, what do you think? Are you excited about the continued development into the future that CRS has taken? Let us know!
Meanwhile, we'd like to direct your attention to how you could be helping to support great efforts like these continue.
SUBSCRIBE TO SUPPORT GAME DEVELOPMENT
WWII Online is 100% fueled by player support. Please consider subscribing to help us accelerate game development and continue to produce great features and content like this. WWII Online subscriptions not only provide you full game access, but they also act as an internal funding drive which helps us keep servers operational and invest into developments like these. Go to Account.wwiionline.com and upgrade your account now to help us do more!
ALREADY SUBSCRIBED? Become a Hero Builder and get even more!
By becoming a Hero Builder ($29.99/mo) you'll gain access to several recognition features, receive special in-game player content and get early access to WWII Online: Chokepoint and WWII Online pre-release testing.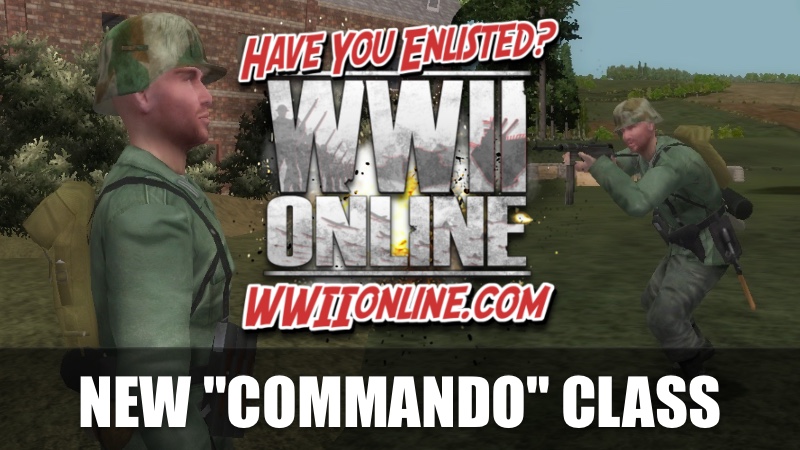 The full list of goodies as a Hero Builder:
Early access to WWII Online beta testing (NEW)
Early access to WWII Online: Chokepoint (NEW)
Access to the "Commando" Infantry Class (NEW)
Access to the "NCO" Infantry Class
Access to the "Ammunition Bearer" Infantry Class
FREE second towing account (includes inf classes)
Ingame "Hammer" Icon
Special Discord Role (NEW)
Forum Rank (Title)
Forum Rank Avatar
Forum name receives first letter capitalized
Special "Builder" forums to get early bird dev news