Hi guys! I'm Pixels, part of the small team at Fast Forward Games currently working on MIGHT, a team arena brawler we're releasing on Steam.
Yesterday we announced MIGHT to the world and now we're hard at work making sure everything is ready for it to be put onto Steam Greenlight early next week. Releasing a game on Steam's greenlight section can give a huge player population injection into a game and can be a great way to get noticed. We'll be letting anyone register for the beta and we'll also be sending out keys to random users, tweeting out keys and also handing out bundles of keys to big & small clans and communities alike.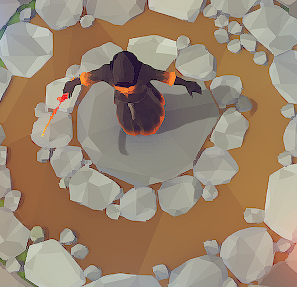 Work on the new look for our Pyromancer class is coming along nicely!
Today we're working on some changes to the map as well as a new look for our Pyromancer class. It's been less than 24 hours since we announced the game to the world but the response has been really nice and we're excited to see people get into the game this weekend which is when we'll hold some scheduled play times to get very early testers into some fun 3vs3 matches.
As a small team there's a lot of tasks for each of us to do but we feel that we're handling it well. Posting things to twitter, facebook, youtube and various other social media platforms and forums is almost a whole job in itself but I find it a lot of fun to communicate with gamers and it's something I've always felt a lot of devs drop the ball on. That's why for MIGHT we're trying our hardest to stay active and communicative with our players. We have an open Discord channel that anyone can join to ask questions or have a chat with us about the game.
Based on my own experience from playing a lot of games it can be very frustrating when something in the game you're currently playing is buggy or there's some glaring balance issues but it takes the devs days if not weeks to fix what you as a player perceive to be a "quick fix". While it might not always be so easy it definitely is at times and hearing nothing from the devs for weeks can be very disheartening.
So we want to listen to our users and be quick and responsive because it's a win-win. From talking to the players we get so much valuable feedback, a feel of what is and isn't working, what people find fun and what needs to be changed. The players get a responsive dev team that can fix things they are asking for sometimes the same day it starts becoming apparent that a majority wants a change.
Our plan after we're out on Greenlight and preparing for Early Access is to keep working on the game and during the EA phase of MIGHT we'll keep listening to our players and especially try and get feedback on what kind of classes they want to see in the game. We'll be launching with 8 classes and during the EA phase we'll be releasing more of them (free for anyone that owns the game). Right now, I'm working on a design for another healer class as well as a ranged damage dealer mage type class.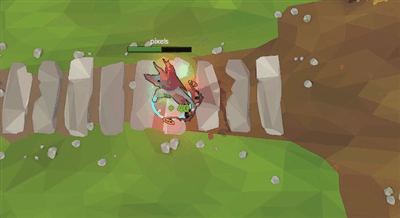 The Hunter class in MIGHT
Right now anyone can sign up for the MIGHT beta and we'll be sending out keys to pretty much everyone that has registered very soon so if you're interested in the game then do sign up and join us! Come chat with us on Discord, find us on twitter or Facebook and help us make MIGHT the best game it can be!
-------------------------------
Subscribe on YouTube
Follow us on Twitter
Like us on Facebook
Join the Forum
Email us at development [at] ff-games dot [com]
Chat with us on our discord server