This seems to be an appropriate time and place to tell you more about what I have in mind for my game. I wish I could tell you EVERYTHING, but that would take me a week or so to write, so let's focus on the most important stuff.
A note before I start: this is speculation, just thinking out loud - these are in no way promises. It's very very likely that these features will indeed make it into the game (all features in the current game came from this same to-do list), but it's no guarantee.
A lot of different buildings in towns and cities, like main halls, pubs, post offices and banks. I hope this will help the inhabitants of these towns and cities to form real communities.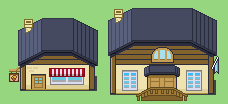 This is roughly how pubs and town halls look in my mind.
Paint, to give a personal touch to your house, cloths and vehicles. I hope every city will have its own look with regard to buildings, vehicles and fashion, so travelling and exploring will be a fun part of the game.

This can lead to colorful cities, if the inhabitants desire.
A lot of multiplayer minigames to be played against players of another city. Imagine a fishing contest, a race from one city to another in a vehicle you created yourself, or a massive game of tag with your city as the playground; defend the pride of your town!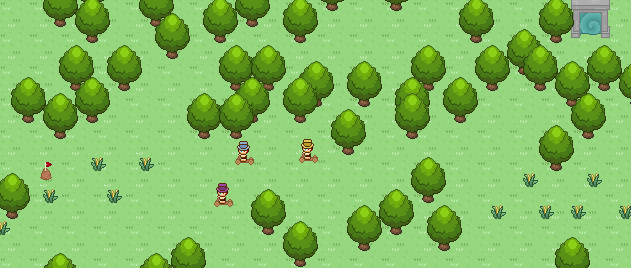 A very simple type of race: just reach the flag first. I also want to add more complicated types. Also, this obviously is near a city where tophats are in fashion.
Lots of building styles, so each city will look different. The idea is that every city can pick its own architectural style, and so will have its own feel.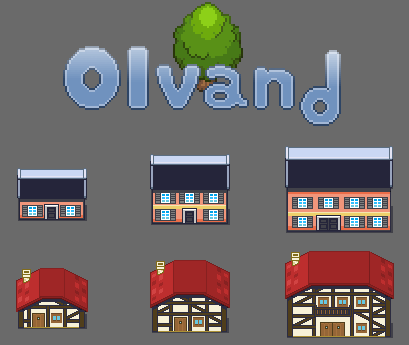 Two ideas for building styles.
Huge living forests full of different kinds of animals and plants. Imagine discovering a colorful field of all kinds of flowers in the middle of a forest, carefully trying to approach a large group of rare, deerlike animals, or birds on town squares. This will also include randomly generated species of plants and animals unique to your server, and rideable Alots.
It's true (if I can get permission, at least).
Roads and railways to be built by the players themselves. As the world is going to be huge, travelling from one big city to another might take way too much time, even in the quickest vehicle. Therefore, I hope to add roads and railways to speed up the process. Travelling on the train could be a nice way to meet other players as well.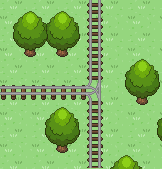 Imagine walking around on a new server, wondering how much progress the inhabitants have made, and then suddenly walking into this; for railroads to be profitable, you need multiple big cities! By the way, I imagine following railroads (or actually getting on the train, if you've got the money) will be a thing done a lot by people new to the server, to discover the important places quickly.
Randomly generated caves. Beating a boss together is fun, but gets boring when done multiple times. I will try to add 'magic caves' that will give a brand new experience every time you play them, and that will become more difficult once they notice they're too easy for you and your companions.


Complex politics (with parties and parliaments, etc.). Communities need leaders of course, and by adding the game of politics (elections, parties, parliaments, etc.) I hope to make this game a richer experience.


One profession per player, which gives them an ability other players don't have. Professions have to be taught to you by another player, and can be made even more unique by working together with someone who has another profession. A writer and an engineer working together will be able to reverse engineer blueprints from items, for example.


Diseases, which will spread like in real life.


Something with music made by players.


A tutorial before you start.


Much more content: more olbs, more caves, more cloths, more vehicles, more architectural styles, etc.
If you want more development, see [twitter] or [facebook].