Spending [two] [articles] on how I try to solve confusion things of course doesn't mean I don't do anything else. In fact, my girlfriend currently is an intern at a hospital quite far away from here (two hours by train), which means (1) I have to get up early when she's here and (2) I have a lot of time alone, both of which really boost my productivity. In particular during the last week development has gone a lot quicker than expected.
Now that the simple minigames (racing and fishing) are in and working, I decided to focus on the last big feature the game is still lacking: cities/towns. It's there in every description of the game you can find on the internet, often in the first sentence: 'where the players live in self-built towns', but not in the game itself yet. Yes, you can put a group of houses together, but what I am talking about is cities/town with a central town hall, a name, a flag, real territory and inhabitants. By the way, I'm still not sure whether I should call them cities or towns. I thought that towns are small and cities are large, but in Olvand these things can (of course) grow, so I need one word to refer to the general thing. Native speaker opinions are more than welcome.
Anyway, the next update will be devoted to implementing the final things that need to be in before I can start working on the towns/cities functionality in the update after that. I already started preparing it when I [added removing trees] and [changed the house ownership system], but now it's no longer a side-thingy, so to say. Two things I implemented last week with respect to this:
Chests you can find underground, with all kinds of interesting stuff in it. This is where you will find the town hall blueprints essential for creating a city/town. It's a also a nice opportunity to have people explore the underground a bit more; there's a complex system of randomly generated corridors I think only a few people discovered. I am aware of the fact that this idea might be a big mistake because nobody tries to find these chests, but let's give it a try. Here you see me testing the chest: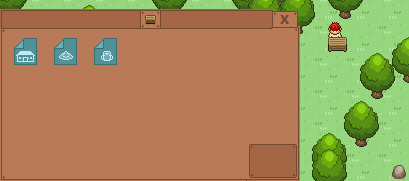 Coop building. In Olvand's [explanation video] I talk about 'building things together', but that's not really what you did so far: you built things alone in parallel. With this new feature, you don't build houses immediately, but you create some sort of construction site first:




Here you can put all the materials you need to collect. Once you got everything, you simply click 'Build', and the construction site changes into the building you were building. This way you can not only really work together when building stuff, it's also no longer necessary that you have all items in your hand or bag at the same time. Since inventory space is limited, this was a real pain when you wanted to build bigger things - you needed to put all other stuff you were holding somewhere else - but it's simply impossible for even bigger buildings like town halls. Now, if a group of players decides they want to start a city/town, what they'll have to do is create a construction site for the town hall, and then all start collecting materials.
If you want more development, see [twitter] or [facebook]. If you want to be a tester, you can subscribe on [olvand.com].