Hello there!
First up, here's a wallpaper I've just finished: It's the same design as the sketch I posted a few weeks back by our Lead 3D modeller and all-round art guy, Andy, but I've coloured it, added some lighting and things and packaged it up as a shiny new wallpaper for anyone that's interested! It comes in 1024*768 , 1280 * 720 , 1440 * 900 and 1920*1080 varieties. All the different versions can be found on the images tab.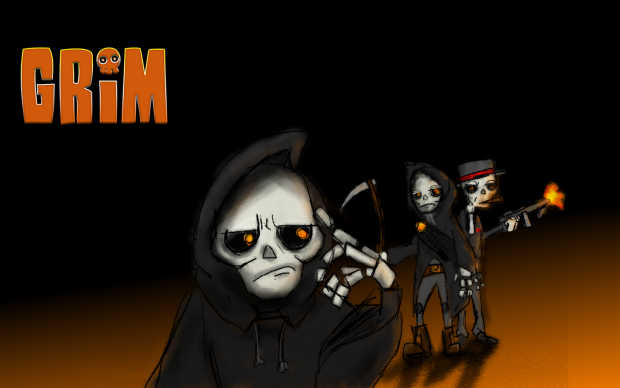 In slightly more interesting news, while Andy works on a few new assets to show off, we've been planning ahead and thinking about release and funding. The current plan we've decided on is to go down the Kickstarter route with a low goal of just around £1000 to buy Unity Pro, with any extra money raised going towards improving the overall product through the hiring of other modellers/animators and the creation of a custom music score.
In terms of actual updates to the game, I've actually gone in and removed the character controller preset I was using before, instead moving all the functionality from that into my own custom player controller script. In short, this gives us much more control over how and when the player can control Grim, allowing us to finally add back in more advanced movement like double-jumping, gliding and ledge grabbing. We hope to put together a new video to showcase this stuff, along with the new player model and animations as soon as we can, but until then, here's our last vid if you haven't already seen it:
Until next time, then - Cheers!