Greetings pioneers!

This week we have been continuing work on both multiplayer and the new map, things are starting to take shape! It's been a matter of pulling everything together this week and making sure each individual system works with multiplayer and replicates over the network. Still a way to go though and plenty of bugs, we all can't wait till we're able to build epic bases and take down Juggernauts together at the office.

Here's a breakdown of what the team have been working on:

John - Lead Designer

This week I've been with the guys at Epic and a load of amazing UE4 based studios heads to talk through the direction and future of the engine and about the projects that we are working on.

There is a huge buzz about the work done by all of the dev studios and it's great to get the feedback from the people that we admire and have worked with in the past.

In addition to this I helped organise support for the UKie Student Conference in conjunction with Epic and Staffordshire University :: Ukie.org.uk which is due to take place at the end of this month.

Beyond this I have been working through all of the base items that I want the player to be able to build and craft, whilst also working this into the progression system designs.

Matt - Art Director

The huge undertaking of rock placement has been on the cards for the art team this week. Our destructible resources require a lot of manual love. Infact you can watch the timelapse video below to get an idea of what the placement process is like in one small section of the new level.

p.s I've also snuck some in editor game footage into the video..

p.p.s I've probably used way too epic a soundtrack for this type of preview.


Lee - Technical Director

This week I have finished adding audio to our AI perception component. I've also been hard at work testing out every aspect of the AI in multiplayer and trying to fix the bugs as I come across them. As of this afternoon the AI seem to be performing very well now.

Tristan - Senior Developer

The week I have been working on the fixing up bugs and crashes to do with multiplayer. I have been working across the HUD making sure it gets set up correctly and unset correctly over the network. I have also been fixing up any issues with the foliage destruction and regrowth system as well as level streaming for clients. Hope you enjoy it when its out.

Joe - Environment Artist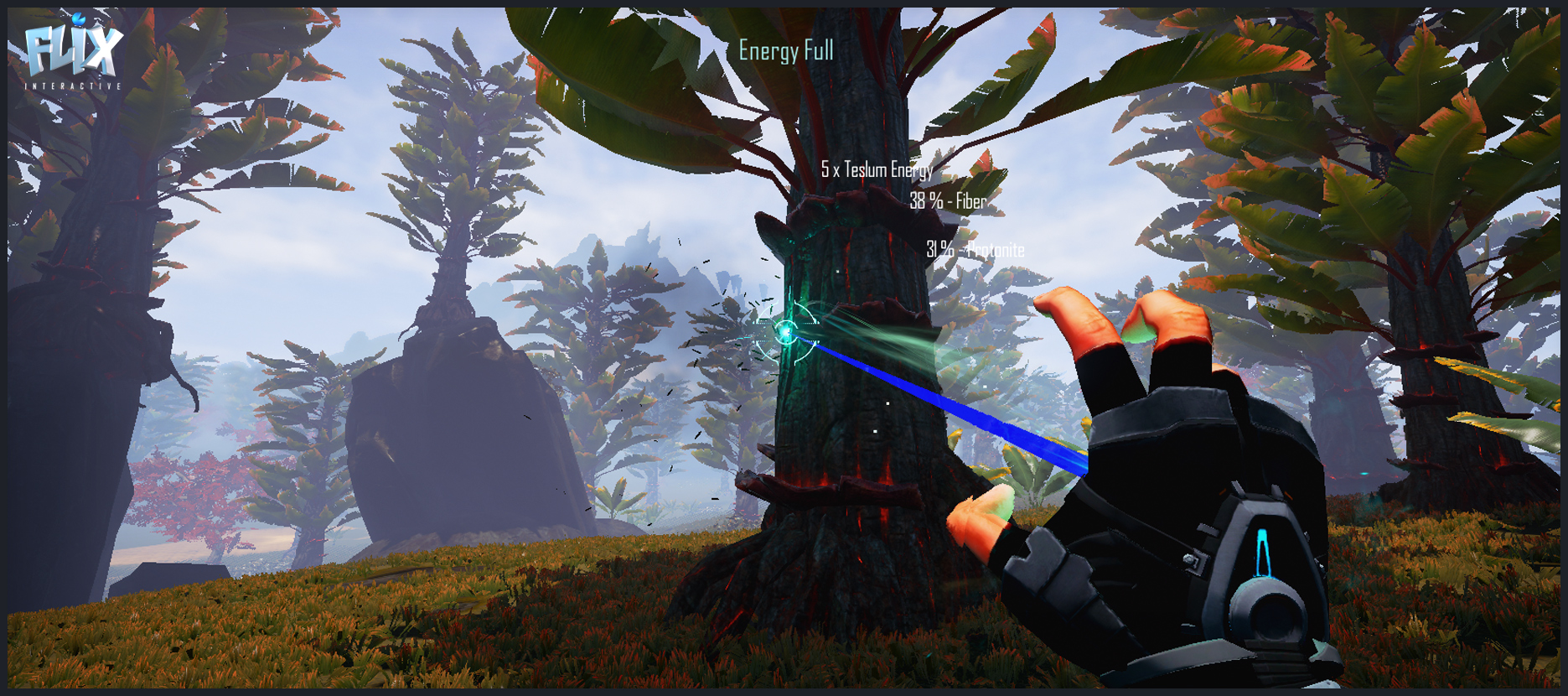 So as Chris said this week we've finally finished up placement of destructible rocks in our new map section! Woo! We've used a more defined ruleset with our placement this time which should make it easier to understand where you can go to look for specific materials. I've also re-done the Post-Process and today I've been working on fixing up the atmospherics and day/night visuals in the new map.

Yves - Senior Developer

Multiplayer building, that is what I have been working on this week. Ridding bugs so it can be tested properly without a high frequency of crashes.

Ricky - Developer

Working on making sure the HUD is properly updated of the comings and goings of multiplayer server activity, as at the start of the week clients weren't being told anything.

Marcin - Designer

On my part, this week has been about system design and of course, the multiplayer. Since the grass is my personal responsibility, it was up to me to make sure it replicates over the network. Yes, can you name any other games that syncs their grass with the server? I thought not :) As for the system design I was able to pick back up a little system Chris and I have worked on before, all to do with making sure the waves of enemies attacking your base are consistent, dynamic, and with just the right amount of challenge. Without giving away too many details, I'll just say that we are looking into balancing it against the development of your base rather than the time and place it's in.

Chris - Designer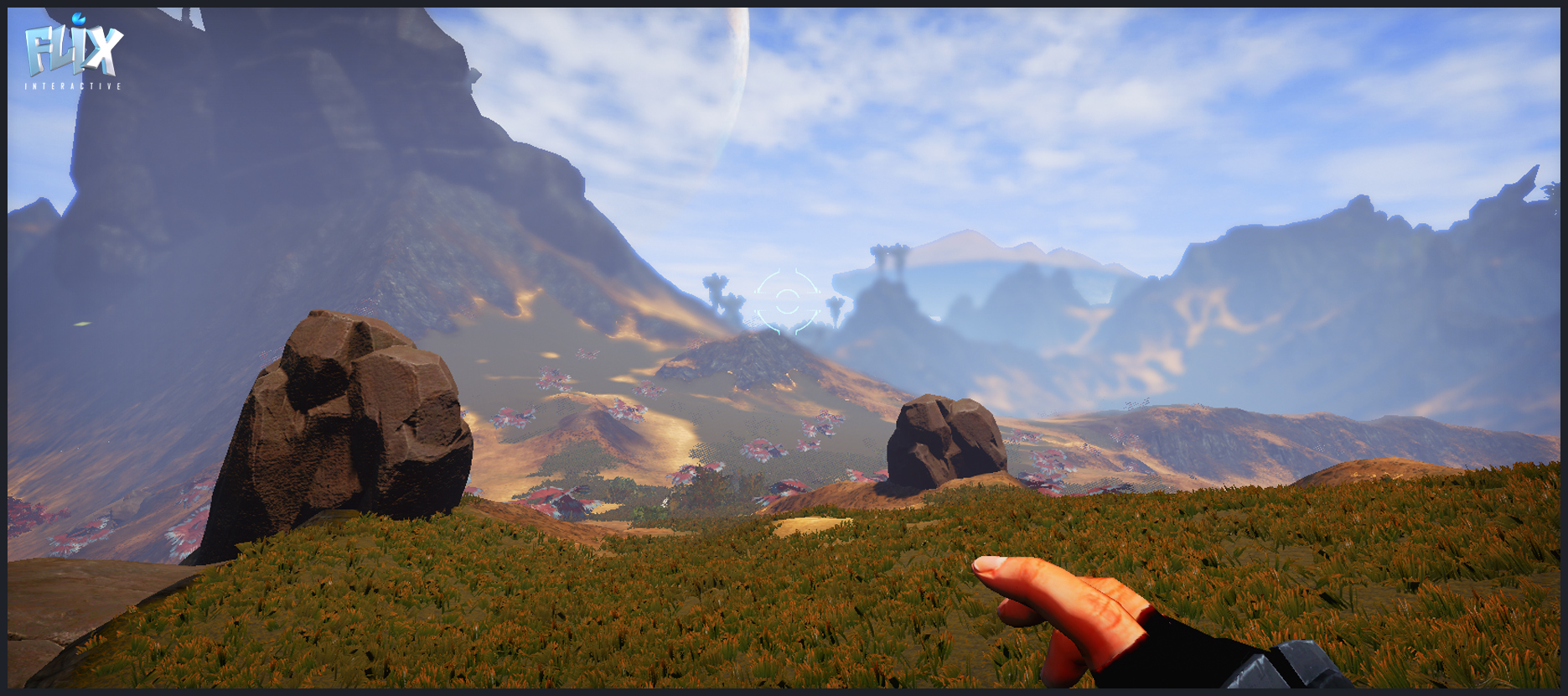 This week we managed to finish all the placement of our shiny new destructible rocks! This means that the new map is now gameplay complete in that it's fully playable with all systems and interactions in place. We will now move on to playtesting and iterating through everything from visuals to what the player will experience in the world.

I have also made some tweaks and fixes in the current playable map in preparation for multiplayer as well helping Marcin in designing a new enemy wave system which I' am personally excited about!

Tom - Character Artist

Starting work on the Jellyfish style alien creatures, native to the swamp!

Lauren - Animator

This week I have been working on 1st person animations for our new Sniper Rifle, prototyping the scope camera/lens and making the arm lift up when you are close to objects to reduce clipping, the Sniper is over a meter and a half long so it is easy to do!

Gav & Simone - Concept Artists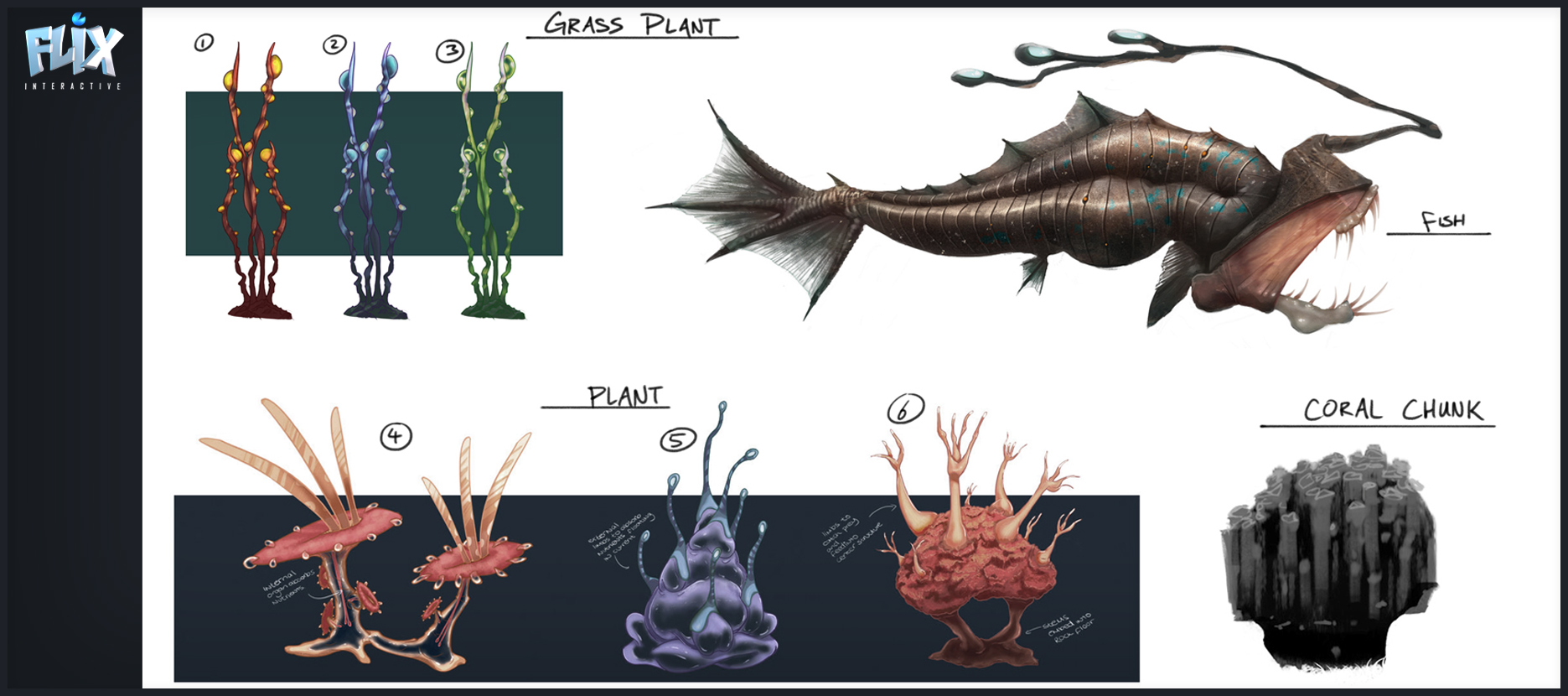 Our 2D arm have been developing designs for additional creatures and underwater assets to compliment what the rest of the team have been working on with the new map.

Andy - Lead QA

This week I have learnt 2 valuable life lessons. Firstly, never agree to help place individual Apex assets. It takes forever and makes you want to pull your hair out. Secondly, and in my opinion more importantly, never let Matt build your house in Rust. He will insist on adding a window no matter how much you tell him not to and someone will climb in through the for lack of a better word "horizontal door" and loot your hard earned resources. I jest about the asset placement, it was actually really fun getting in engine. I'm not jesting about Matt, seriously don't ever let him build you a house.

See you in the fray!

-Team Flix