Menus, Savegames, and Temples of Doom/Tea
Nothing too exciting to report on this week. Development continues on Beyond Teatime. I've started on a few of the new areas that I'll be tackling in the weeks to come, and I've got the new menu system implemented along with a saving and loading system. The menu system is a lot more flexible than the system I had in the original tea quest. It can be opened in game as well, and allows the player to save and load at will. Thankfully, Construct 2 has a great save system that I can call on to do the heavy lifting, so implementing the system was a relatively easy process.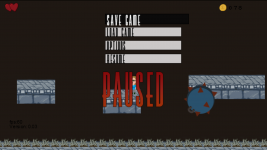 I've also been spending a bit of time working on the Underground Temple stage, where Janice must go to retrieve the mysterious Celestial Teapot. It's going to be loaded with all sorts of fun traps, creating it reminds me of all the fun I had playing the original Prince of Persia.