Following our Greenlight pass at the start of October, the team has been building new sections of the game whilst performing more playtests and addressing existing feedback. Here's just a few of the things we've been up to since then:
MEGAbytes Showcase
We've been working with the owners of the new MEGAbytes retro gaming cafe in Glasgow, UK, to help arrange their first indie developer showcase which happened on 17th October. The Observatorium devs were in attendance in addition to Insert Imagination and Rhizome Games. This was our first public showcase since Dare to be Digital in August and it was great to verify some of the changes we'd made since then:

We're definitely feeling that the progression is much smoother than it was in August but still managed to step away with some useful feedback which we've fed back into our development. You can check out MEGAbytes on twitter at Twitter.com
Additional Chapters and Mechanics
Our coder/designer - Clive - has been busy working on various levels and mechanics from Act 2 of our game whilst revising existing levels in response to feedback:

In Act 1, the player encounters mostly static puzzle and world objects but Act 2 introduces dynamic puzzle layouts and a host of new gameplay possibilities.
Experimentation and Feedback
Our 2D artist - Jon - has been concepting some new puzzle and game world objects including a variety of new sea life:

Meanwhile, our animator/composer - Peter - has been providing some new animations and audio to help enhance puzzle feedback in response to recent playtests.
This Month
Our next public showcase will take place on 18th November at The Mash House in Edinburgh, UK, at an event called Games are for Everyone (Volume 3):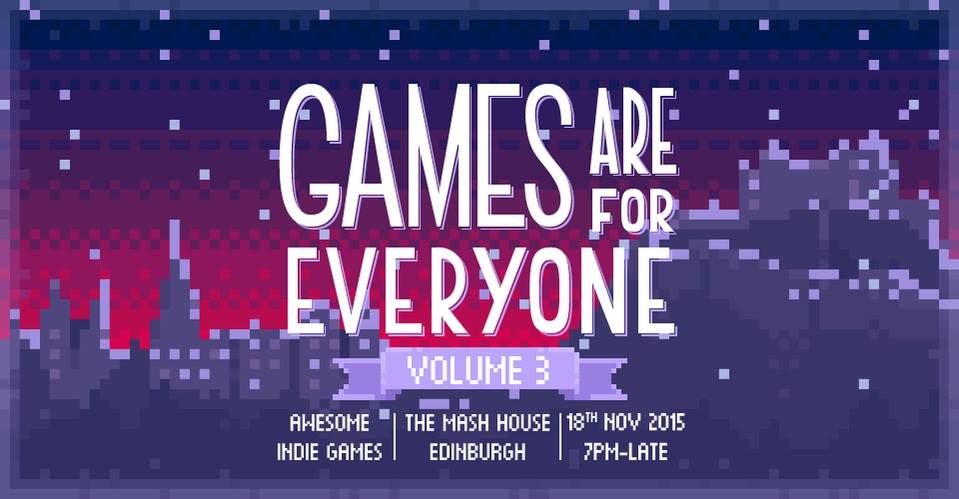 We're excited to bring the game to an all-new crowd in Edinburgh and hope to get even more feedback on the night. If you live in or near Edinburgh please come along and try the game for yourself. More info at Twitter.com
Thanks for reading and stay tuned for our December update!
Clive Lawrence, Jonathan McEnroe and Peter Satera
-The Man Who Flew Away