It was exactly one year since we last posted a picture here. After that thing have quieted down. The constant "We are not dead" claims have raised a question of doubt. Are we actually dead. Now after one year of silence. You get the answer.
No. We are not dead. We are alive and kicking!
---
I (jukki) have been very lazy and selfish during this year. I let the team down and almost killed it. I was leading a decently sized clan in dayz and dived in to it too much. Now my clan is disbanded and I have found more time for nzp. I decided to try again. During the year I had gained bit more knowledge on scripting and coding (thanks to arma 2). I have realized the mistakes we had done in past (man our code and models were messy). I believe with this knowledge and by the help of other psp member such as mabose and ghost we can finish what we starter (and maybe even more). But enough words. I am sure everyone is eager to see what has happened during these few days.
---
Most of our early focus has been on getting clean plate in front of us. We have new engine for psp (DarkQuake). Thanks to some of its features we can bring more optimization to the the game (dxt1 compression for example). We are doing code wise mostly from scratch. Reason being our old code was resource hungry, buggy and hacky in most places. We are not rushing in features, but instead going slowly through everything, making sure as we go that we don't eat too much of what we have. One important thing we decided to do too, is that we have no active PC development version yet. All of our work is done on PSP emulator. This way we can focus on what is truly our main platform. (Do not worry thought. PC version will also be release.)
---
Here are our new stuff. Our focus has been on lightweight simplicity but not ugliness. One good example of our optimization is our new menu. Instead of using images to draw the menu, we use basic strings. This save memory, and makes navigating menus more fluid, thanks to its no need to load any images.
Here is "press start" when you launch game. I aim for more userfriendly ui and feel like instead of a console, player is first granter by this: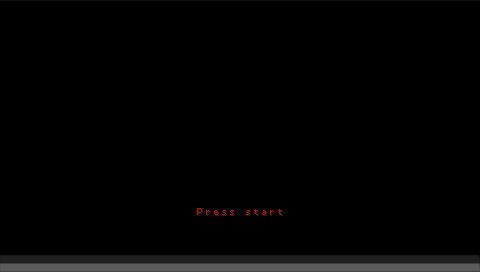 After that player will get to main menu: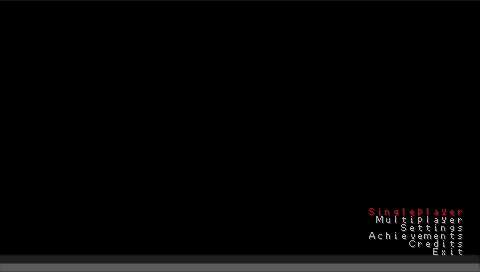 Simple but effective, and does not look bad at all (keep in mind we will have menu background, right now it is just black for time beeing)
Single player menu will lead to simple map selection screen: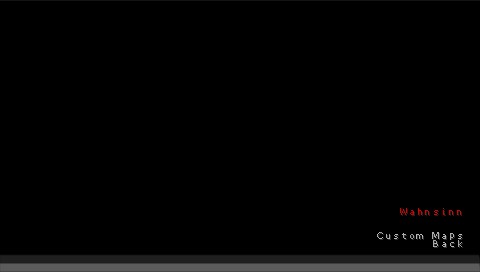 Player can choose to play either one of our maps, or any map that is in his maps folder (Custom Maps).
Here is the custom maps menu. The map list scales perfectly and has will have a scroll menu if user has more maps in his maps folder: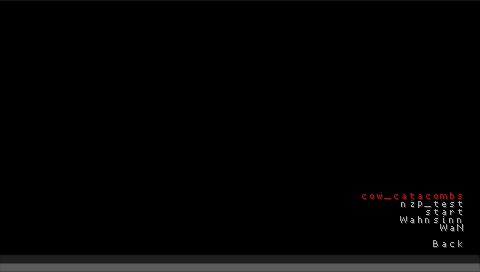 The map menus will later get description text and preview pic (support for custom maps too ;) )
Loading screen is also making return. It will now also have tips (which change) on top, loading bars (can be disabled) and of course the loading image: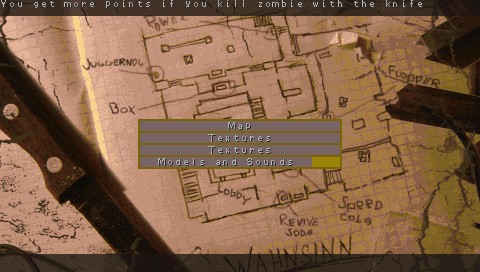 And here is a screenshots of ingame in wahnsinn. As you can see, tom has put bit more work in it.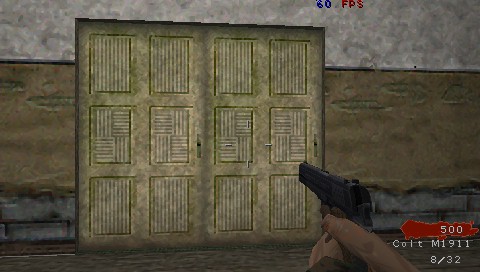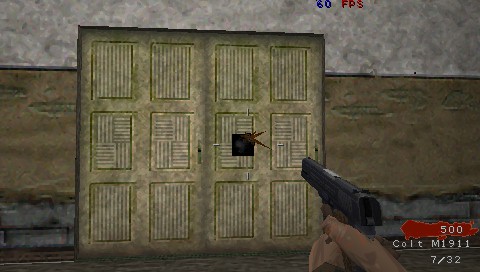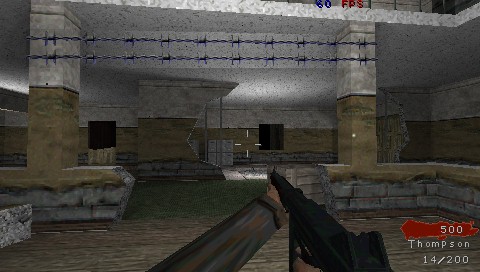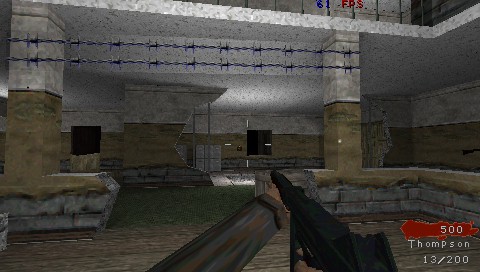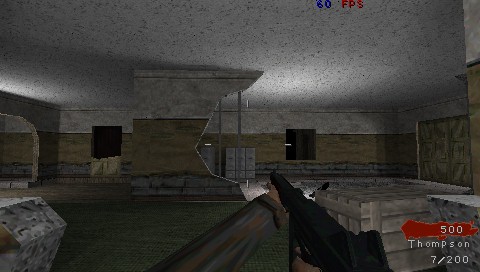 As you can see our hud has also been given a small make up. Numbers from pictures have been removed and been replaced by strings. Giving us again slightly less ram usage. Some things to also see in these pics. Point system and weapon systems are currently 90 % finished ingame. We only have 3 weapon in at the moment, but I will be adding rest of the weapons later. You can also notice that crosshair now moves when you move around, and also will expand when you shoot. This is not just visual effect but also affects your weapons spread. firing in full auto now has recoil and makes your gun less accurate. iron sights will tighten the spread noticeably and make your gun a lot more accurate. Also thanks to darkquake we have particle effects, gun smoke and bullet holes (these don't work properly in the emulator but do work 100% in actual psp, that is the reason for the black boxes).
---
That is it for this this update. We are not letting it die, and we will deliver you what we promised. A release of nzp. Stay tuned for more awesomeness!