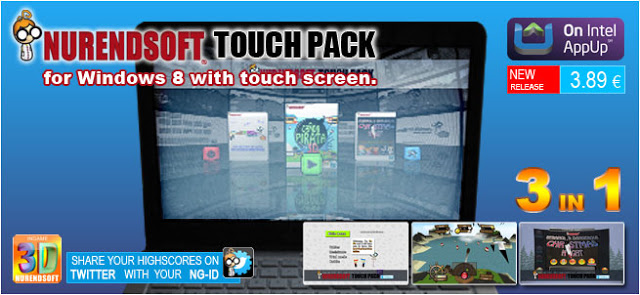 Our last game NURENDSOFT TOUCH PACK is now available on Intel AppUp and on our Online Shop. This game is our 15th app on Intel AppUp and our 3rd game designed for Windows 8.
Enjoy the new Ultrabook™ with Windows 8 and touch screen with this special pack. We have reedited three of our games and we have adapted for touchscreen and Windows 8 ***.
Learn to Multiply with Dr. Fiu: is a fun math game destined for the smallest kids of the house who want learn multiplications with an easy and fun method.
Cañon Pirata 3D: Aim a ship, calculate the angle and strength, while considering the intensity and direction of the wind at any time. Each sunken ship rewards you with a few extra seconds to continue playing. Compatible with NURENDSOFT STEREOSCOPIC 3-D.
Strange and Dangerous Christmas Night: is an arcade game with great humor, fun and a lot of hits. Help the Scream Gang to protect their Christmas presents at their home in over 50 levels and multiple game modes.
Use your NG-ID (Nurendsoft Game ID)* to compete in the Online Ranking and share your best times in your favorite social networks.**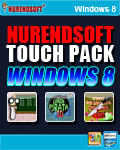 * For get a NG-ID you must register in NURENDSOFT.
** To post in your social networks, you must link your social network account to your NURENDSOFT account.
*** If you haven't an Ultrabook™ with touch screen, you can play using your mouse.