Hello everyone,

it is amazing how time flies. It considers that it is only a few days when we launched our game into "early access" here on Steam. It was precisely October 5, 2015 at 18:00 CEST time.

For us it was a huge step and full year brought us many new experiences and knowledge. We were trying to bring new things to the game, and most importantly repair and upgrade basic game elements and logic. But we not fulfilled everything we wanted - unfortunately such is the development and priorities change with regard to your requirements and weaknesses in the game that surfaced. All in all it was a very hard work year and subsequent years are ahead of us.

We thank you very much everyone for your patronage, support and most importantly patience!

The first anniversary of our little we prepared a smaller event.

Event will last until the end of the week - it may be extended until 12 October 2016 (according to the interests of players).

During this event you can get:A unique achievement for playing Novus Inceptio during this event.
Unique in-game item (a statue for our 1st anniversary - a unique achievement, representing this gift) - it is necessary to write in in-game chat this command " /reward " ( without the quotes, but with a slash )
During the whole event is raised skill up 2x

We hope that you will be delighted and will remain loyal to our game.

We thank you!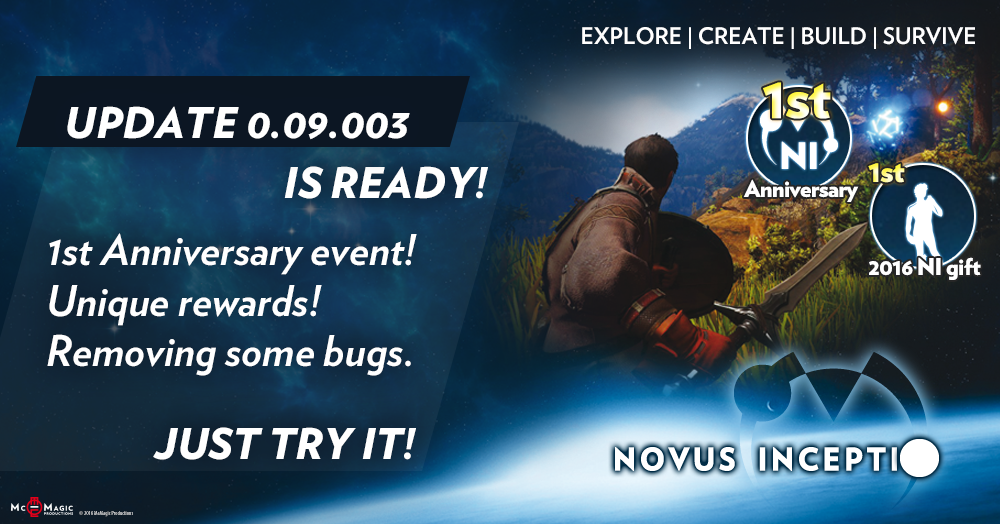 Below is a detailed description of the update:

1st Anniversary
Special unique sculpture as a reward for players (for players who play the game during the event)
Special unique achievements for the players as a reward (for players who play the game during the event)
The reward for the players in the form of in-game money (for players who play the game during the event)
During this event Increased the skill up 2x

Gameplay changes
Revaluation of all items in the game (preparing for the new trade terminal.).
Wipe all the player's money (preparing for the new trade terminal.).
Added crude ax - easier to produce and can be found in the manufacture of the tools.
Bottom right menu now has even hint key (which can be used for the action on the menu - if that's possible)
Inventory and A2-A storage - a new button to open a new inventory(A2-A or player backpack) now has a better sign for better understanding.
Annulment LMB action for a action to salvage the building component - the event is only possible using the action keys.
Temporarily disable options for sale items - before the new trade system comming.

Achievements
Wipe all the player's achievements.
Added some new achievements (preparing for another new).

Issue fixes
Fixed problem with huge FPS drop during mass collection of raw materials from trees etc.
Synchronization fix chat