And the Winner is Danny Silverheart for his idea.
"My idea is simple, a creature that blows up when it dies and does damage to everyting in a 3x3 area. It should do no damage on its own and move very slowly. I suggest it should be a red card."
We proudly present, the Volatile Rock!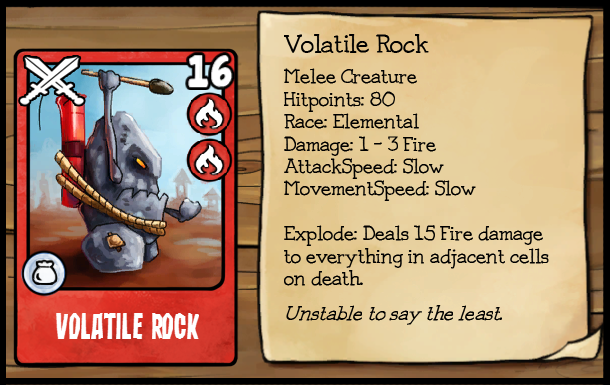 The only thing we changed from Danny's design idea is that the creature still does a little damage on his own so he can not be completly ignored.
We have created and implemented the new "Explode" skill that creatures or buildings can have. When the creature or building with "Explode" dies or is destroyed. It will deal X amount of damage to everything around it.
The new skill brings in a few interesting things to the game, like for example discarding creatures / buildings you own to trigger the "Explode" effect, building a deck with "Explode" creatures and speed boosts to get them in the midst of enemy buildings, construct buildings with "Explode" to damage several enemies on several lanes attacking the orb and counter "Explode" buildings by sending ranged units or destroying them with spells.