Of course the message below was an april fools day joke, so dont worry the game isnt dead :)
---
Some of you might have seen it coming. Nosferatu is dead and all content has been deleted (it sucked anyway). It has been canceled because last night I had a way better idea for a game (it appeared to me in a dream). However this is not the total end of Nosferatu, instead we would like to present our new Project.
NOSFERATU 40000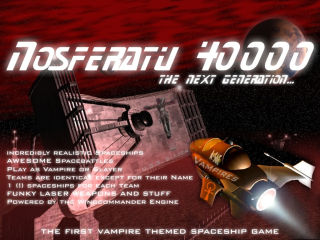 Oh yes, you read correctly, Nosferatu 40000 will feature intense spacebattles, Slayers against Vampires. It will feature 1 spaceship for each team and lots of cool stuff that I cant tell you right now. Its all powered by the good old Wingcommander engine.
The website will soon be redesigned to fit the new theme of the game.