In this article we'll provide a description of what happens playing Stranded Pigs. In every level there are many things to do and it will be normal to feel overwhelmed in the first few playthroughs. Knowing in advance what you should focus on will help you develop an effective strategy for whatever trouble you may encounter.
So let's start by saying that every level in this game is a procedurally generated island, thus each level is different from the others. To clear a level you have to accomplish a peculiar task. Since tasks can be different and unpredictable, the first thing you should is to try to find what your task for that level is. You can find the answer written on an item called The Ancient Tablet Of Rules (of course, you have to find such item first!).

The ancient tablet, where all the knowledge is kept
Once you have learned about your task you should, of course, try to accomplish it by doing whatever is required of you. It can be killing enemies, find a specific item or even catching fireflies! More tasks will be added in future updates.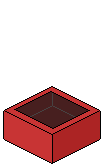 You can become a gardener and take care of a plant...

... or catch fireflies! You'll have to adapt.
The thing is, you are not a soulless robot which simply follows order. Being a pig means that you have to take care of yourself: you have to eat, drink and be happy. Pay attention to the three indicators on the top of the screen: they are your health bar, your hunger bar and your happiness bar. When your hunger or happiness bar falls to zero, your health will start to deplete rapidly… so take some time to look for food and items that take the stress away.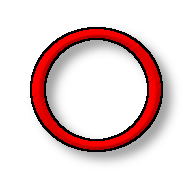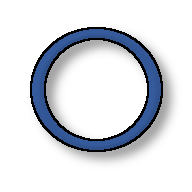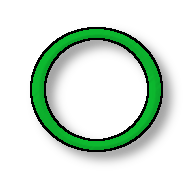 When you complete the assigned task a magic door will appear and you can leave the island going through it. But things are never that simple, aren't they? The door can appear anywhere and you have to find it! Be sure to have enough supplies to spend some more time exploring.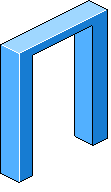 It doesn't look that great now, but seeing this door will be like discovering water in the desert...
As you can see, there's a lot to do every time you set foot in a new island, not to mention dealing with the baddies that infest the beaches, forests and swamps. However, if you have time between your errands, remember to pick your pickaxe and start destroying blocks: you never know where you could find some useful material to build your own island…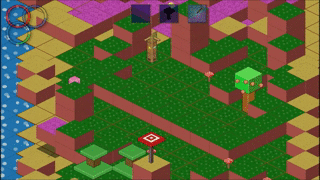 A small preview of the blocks destruction