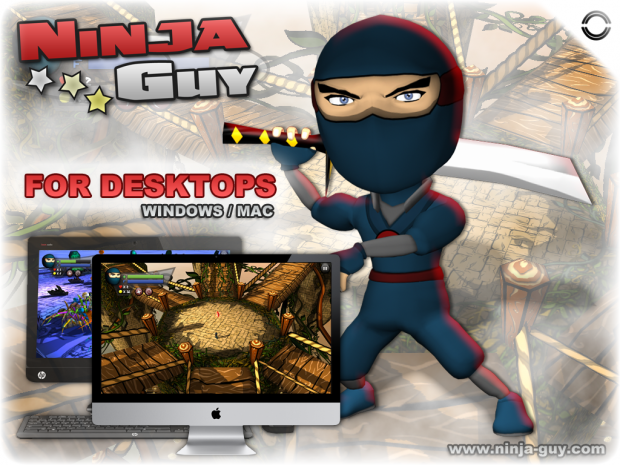 Ninja Guy has generated somewhat of a cult following on iOS and Android, reaching the top 15 in the iPad Adventure Chart in the USA, as well as creating a 68,000 strong Facebook fan base! Now, Immunity Studios is pleased to announce that the development of Ninja Guy for the Desktop is complete! The team hope to have it released on Desura in the coming weeks and is excited to be a part of this exciting indie community!
From high resolution textures, realtime shadows and lights, to post-processed screen effects, the graphics of the PC and MAC version make the game really shine on the desktop! The team have spent more than 7 months tweaking gameplay mechanics and provide full support for Joypad input as well as the keyboard and mouse.
For those still in the dark, Ninja Guy is a fast 3D Action adventure allowing players to control Ninja Guy, an arrogant Ninja Assassin. Trained by none other than the Holy Cow Sensei, players guide Ninja Guy through his epic adventure from a small training village to a hell-like demon realm to take down a gargantuan evil Minotaur and ultimately prove their "Ninjaness"!
The game has a humorously random and bizarre storyline, and will have you laughing along to Ninja Guy's almost never-ending supply of dim-witted Ninja catchphrases, such as the classic "2 + 2 = NINZAAA!" and "Ninza Sense, Tingring!!"
Remember, as the Holy Cow Sensei used to say ... "Gun's don't kill people, Ninja Do!"
ORIGINAL MOBILE TRAILER: