We've made some changes to collisions which lead to more satisfying impacts as can be seen below!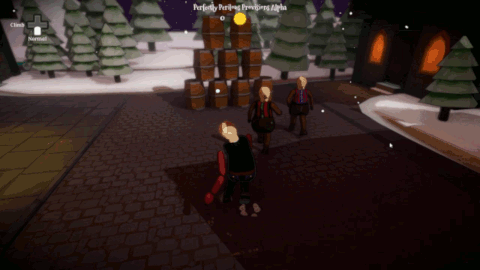 You may also have noticed a couple of other details.
Firstly, we're stepping up character customisation with the addition of actual pained and non-pained visages to choose from. This inclusion will also permit a choice of skin colour of the character.

Second, Oh my there does appear to be a slight gap in the trees there? It's not just me that sees it right? We're setting up the first Takeshi's Castle inspired obstacle side quest!
In addition to these cool changes we have also made a few small tweaks to the joints, so far these seem to lead to greater ease of throwing objects due to increased wrist flexibility. Our modular housing system is nearing implementation and this will permit us to expand the town much faster to cope with new recipes, missions and NPCs.

As always, we're still just a two person husband and wife team, trying to get all this done in our spare time. If you would like to support us it would be great to hear about what you're enjoying/looking forward to, any problems you've encountered and so on. You can also follow us on twitter (@catandtonicdev) or if you're really really nice, we also have a ko-fi and patreon

Thank you for reading and we hope you're looking forward to the next update as much as we are!