ModDB's modellers have quickly established themselves as the largest non engine specific development group, setting the base for what could end up being one of the largest mod related modelling hubs for modelling information and support.
We welcome to the group newcomers and old timers alike and are proud to have some industry talent among us.
Plans are in place to expand the group and get the community involved in small competitions and have community vs community competitions up and running shortly.
In each newsletter we also plan to have a showcase of some great community workings, including 2D and 3D work.
It would be great to get some original high quality work in these showcases if you would like to show ModDB and others what you can do, please email a 1024x768 render to aza_bak@hotmail.com please ensure your email is on the image so others can contact you.
Todays Example showcase we have
M@ty's
amazing CX4 Storm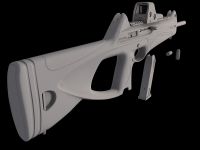 This is how the showcase will be displayed on newsletter.

A shout out also goes to the good folks at Noesis Interactive who have uploaded a swag of XSI Mod tool tutorials for all the avid source developers out there.
Check them out here.
So that's about it for newsletter one, thanks to all that have registered and are taking part in the group so far, your helping make a better stronger group and supporting your fellow modeller.
Keep it real 3D
Aaron "TKAzA" Out