The past few weeks have been exceptionally busy time for the team so we must first apologise for the interruption in our series of weapon previews. They will return in the near future but in the meantime we firstly would like to share a new atmospheric in-game concept featuring a British infantry section by [TWDEV] volcol.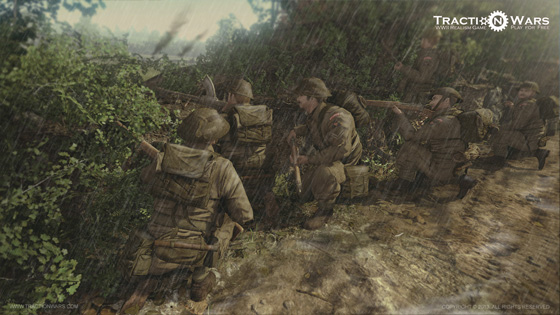 The piece "Faire La Guerre" has been previously featured as the backing track to our weapon update videos but we thought we would share the full version for your enjoyment following the positive response it received. The piece was composed by [TWDEV] Callum Bidgen and arranged by [TWDEV] Callum Bidgen & [TWDEV] SwadianFC.
We get a lot of questions about the game from the community. We enjoy responding to these but two of the more common questions we thought we would share for clarification.
Q: WHAT ARE THE MINIMUM SPECS?
A: There is extensive testing and optimisation yet to be done but tentatively the minimum specs are as follows:

Operating System: Windows XP SP2, Windows Vista SP1, Windows 7, Windows 8
CPU: Intel Core 2 Duo 2.0 GHz, AMD Athlon 64 X2 2.0 GHz or better (a multi-core processor is strongly recommended)
Memory: 1 GB RAM (2 GB recommended)
Video Card: nVidia 8800GT 512MB RAM, ATI 3850HD 512MB RAM or better (SM 3.0 minimum)

Q: WILL I HAVE TO PAY FOR THE GAME?
A: Traction Wars is PLAY FOR FREE. We have no plans to charge for the game or to have any form of in-game store.
For the very latest media and updates follow us on the social networks below, as well as our community forum and our media gallery.