So after a week of no updates at all I'm guessing that you'd expect something fairly big? Well I don't have anything massive but I do have a few fairly major things.
New Health System
I've mentioned this quite a few times but now I've finally completed it. For those of you who don't know there isn't a single health bar in Crawle. Instead, your overall health is now based off your Blood Content (out of 100%) which you can lose by 'bleeding'. It's also based off the damage done to your 4 body parts (Head, Torso, Arms, Legs). If you have 0 health on your Head or Torso you will die. The health on your Arms will determine your hit chance and the health on your Legs will affect the speed at which you move and the energy taken by running.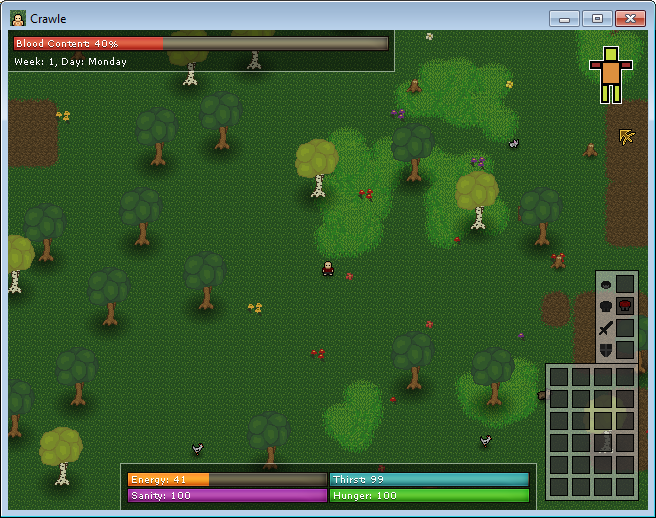 Improved World Generation... Again!
World generation is currently the biggest problem in Crawle at the moment, I'll admit that. I've been working on it to get it a lot more cleaner. I'm looking into procedural generation now and I think I might've made quite a bit of progress with it recently. Until then we'll still have the average world generation that we have now (that I'm constantly working on). You can see a few differences in things such as dirt and long grass. We've also decided to remove the sand and stone biomes. The sand biome just doesn't fit with all the others and really it's the one biome that wouldn't actually be helpful in any way for survival. The stone biome has been moved to inside the cave (well, y'know... when I finish it).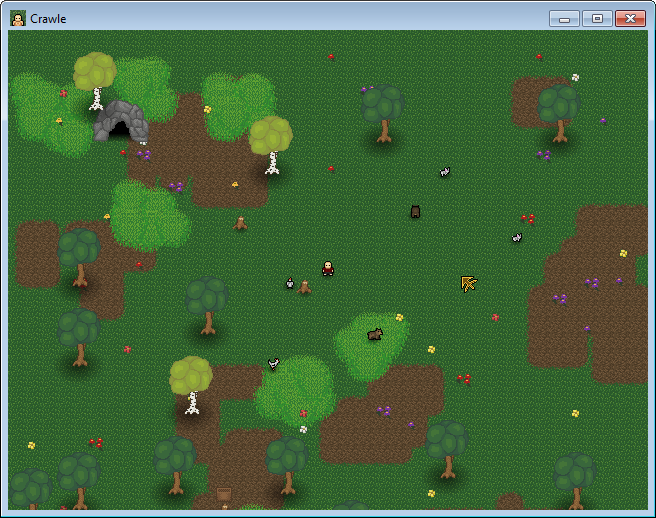 Patches and Updates
All those months ago I said that this would be a massive content patch and it really has been. Skills, new health system, skinning, picking up animals and much much more that I'm still working on. Now we have this ideology that 1.0.0 is the finished game, where everything we want in the game is already in there and from there on it's mainly bug fixes. Because of this I'm going to be taking it a bit more slowly with the patches, no more minor increments in patch numbers (I would re-roll back but it'd feel too weird). As for the release of this patch... I really don't know. I mean, I've done A LOT already as I mentioned above but I always feel I could do more. Maybe another couple of skills? Maybe multiplayer? Possibly even finish that damn AI that has been the bane of my existence since November. Who know's. But I will say this, when I do release this patch Crawle will be, in my opinion, very ready for Alpha.
The Community
Alpha sounds scary. It means polishing the game up and getting rid of bugs. Obviously I can't do that on my own (as we've seen these past few months... these bugs never happen for me, goddammit!). So, I propose we finally begin to attempt to grow a community. It would help the game considerably! It would mean a lot if you all headed on over to the website and registered so we could begin bug tracking and fixing as a community. I'd like to begin this event in the next few days before I go on holiday (the laptop will come with me, don't worry!)
Hope to see you there!
Sleepystudios.com